By Susan Saldibar
"Today we're going to talk about …
Why you care so dang much about social media, and
Why you shouldn't,
Except maybe you should,
But only if you know how to use it."
That's how Leigh Ann Hubbard (new host of Marketing Monday) set up the latest MM session with Dreamscape's David Grauel.
I'm laughing, but I love it.
Because it's spot on.
All this "care," "not care," "maybe," and "should" perfectly describes our insane approach to social media. We love it; we hate it. But it's all the other marketing stuff you do that gives social media its real power.
And most people don't get that. 
That's why we have Dave Grauel. To turn the lights on. (There is way more information in the Marketing Monday video, which you can watch here.)
1. So, why do we care so dang much?

Because we use social. All the time. It's personal, and we care about personal things. That's reflected in the results of a recent survey from Dreamscape (a Foresight partner). What do marketers want to learn more about? Social media.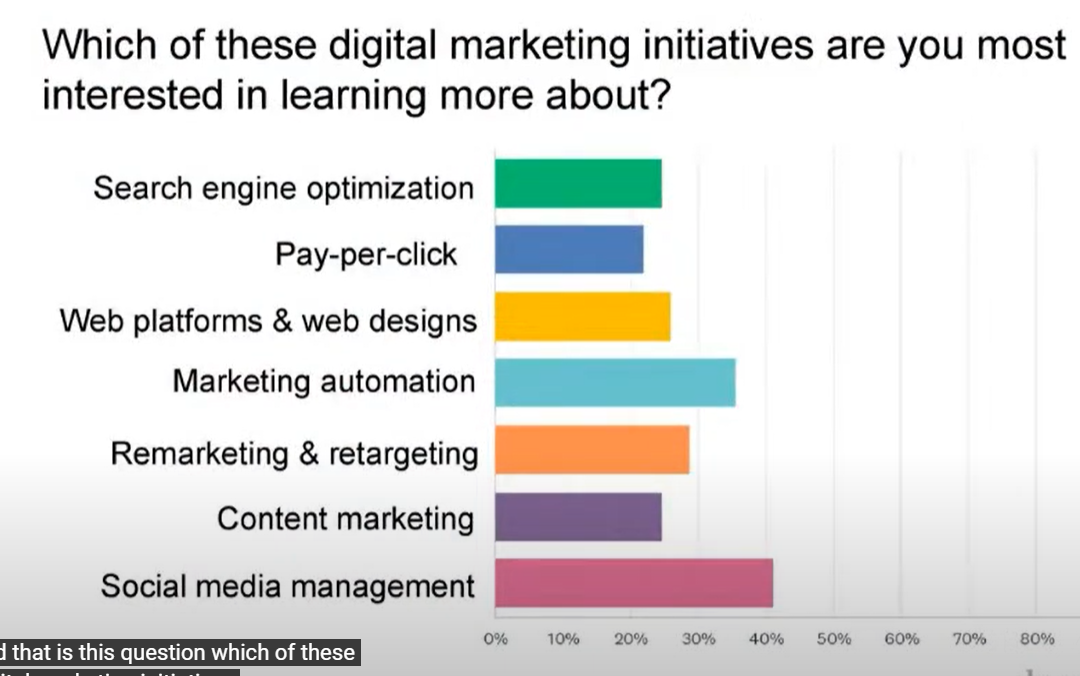 2. Why shouldn't we care?

Because the best leads don't come from Facebook or YouTube or Instagram. There's no ignoring the numbers; 75% of your prospects start their searches on Google. And Google's market share is 92%. Other search engines aren't even close.
That noted, Facebook and its cronies are great downstream after your prospects already know everything they can find out about you from your website or Google My Business (now rebranded as Google Business Profile, by the way).
And those are the platforms they will use to either call or leave their contact info. 
3. Except we should care (as long as we know how to use it).

Yes, you absolutely, positively should care, because you need to do social media. But you need to know how to use it. Some tips from Dave:
Think of Facebook as a "living" version of your website. In other words, just start putting all the great stuff you have on your website on Facebook.
Put everything on your Google Business Profile. There are now a ton of things you can do with it.
So, feed the beast. Cut and paste "to your heart's content" to your Google Business Profile, as Dave says. Add videos, add blogs, and add as much information as you need to give a full picture of your community.
Want a callback? The Google Business Profile Click to Call shows a 70% conversion rate.
Most popular social platforms among older users? Facebook and YouTube.
YouTube is owned by Google. So do more videos — do short snippets with facts or testimonials or other short fun videos, and post them on your YouTube account.
SEO everything! This deserves an entire episode (which is in the works!). SEO — search engine optimization — gets you where you need to be. Optimize your website, your Google Business Profile, and all your social media channels.
Confused by all this? Maybe that's good. 
Because it's time to stop just putzing around with social media, expecting it to generate a bunch of leads. Get the gears going that social can give life to.
Or better yet … 
Hire professionals. Because this stuff isn't trivial. You need folks like Dave and the team at Dreamscape who do this stuff 24/7.
They're the ones who know how to get your community on the No. 1 position on page one of Google search and keep you there. Even cooler, they know how to knock out the competitors (like aggregators) taking up the No. 2 and No. 3 spots below you!
Put them to the test. I'd start by getting their download. Get out your phone and text "social" to 916-659-5287.