By Steve Moran
A week ago I had lunch with a friend who is a senior living veteran but has gotten so discouraged he is doing something else, at least for a while (another article to be written). Somehow we got on the topic of product differentiation.
No Difference at All
What struck me is that within a 5-mile drive of my home are about 8 senior living communities, and with the exception of two that very specifically cater to those with limited financial resources, I could not tell you what makes one better or worse than another. What makes one more unique than the other.
I Assume . . .
I assume there are some slight variations in unit sizes and layouts. I assume there is a slight variation in pricing. A couple are stand-alone memory care and some others have memory care units. And of course, there is variability in location which really means very little in this narrow circle.
Taco Bell & Del Taco
There are lots of differentiation examples in the world of fast food, Burger King & McDonalds, Starbucks & Petes, but since I lean towards Taco Bell and Del Taco we'll use them. They each have nearly identical menus.
Tacos, burritos, nachos, quesadillas, etc. Compare the two menus for tacos: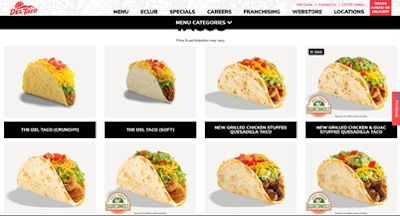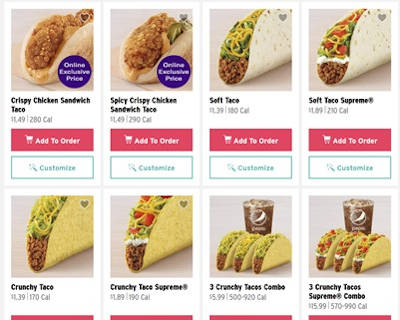 Their prices are more or less the same and the dining experience, drive-through or dine-in, is nearly identical. And yet, anyone who eats Mexican Style Fast Food will tell you they are very different. The taste, the flavor, is very different to the point of people preferring one over the other. I am mostly a Taco Bell person but once in a while, I will hit Del Taco for variety's sake.
They each have figured out how to have their own secret sauce.
If you think I am wrong, go mystery shop several senior living communities in a tight geographic area. And while shopping, ask the salesperson to tell you what makes their community better or even just different than the one down the street or around the corner. They will struggle with this, except maybe when it comes to price.
Senior Living Secret Sauce
Secret sauce is possible in senior living. It has to be, at the end of the day, just two things:
The resident experience

, meaning the amount of purpose I experience in your community. Are people really making meaningful connections with other residents? Do they look forward to hanging out with other residents? Do they have opportunities to continue to engage in purposeful, meaningful activities?





Or are they just biding their time waiting to die? It's something that happens more often than we care to admit.



The warmth of the community.

The best assisted living community I have visited is

The Watermark by the Bay

, formerly called Bayside Park. I wrote about the experience back in 2015 in an article titled

"Nude Modeling In Assisted Living"

. I am still not sure I can tell you exactly what made it special, but it felt alive and full of energy. The staff was engaged and residents seemed alive and full of energy.





What saddens me most in telling this story is that I have been in hundreds, maybe thousands of senior living communities, some exceptionally beautiful, most of the rest very nice, and yes even a few that were simply grim. But I have never, not once felt this kind of aliveness in any other community.
The best part of creating an amazing secret sauce of your own is that it costs nothing. Because it is about creating something special out of the ingredients you already have. What is one thing you can do, today to move in the direction of a secret sauce for your community, your organization?  
Go change the world, one act at a time.