By Pam McDonald
Celebrating over 100 years of the Morrison brand, what you know today as Morrison Living has become best known for its quality dining services. But that's only a small part of what it does for clients across the country, according to Max Mosky, Director of Analytics, and Regan Medzhibzher, VP of Marketing & Communications, who presented at the Tech Foresight virtual summit in August.
For over four decades, Morrison Living has been solely dedicated to the senior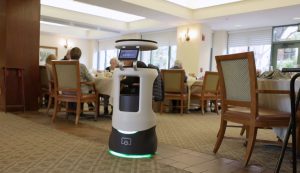 living space. Providing food as well as dining, nutrition, wellness, hospitality, design, and environmental services. Now they have added electronic vehicles and robotics to their suite of services. Their senior-friendly "robots", called Johnnie and Jeannie by residents, deliver meals and assist with bussing. This allows the associates to focus on what they do best, the resident experience.
Leading Change in the Wake of COVID-19
Both Max and Regan are members of the company's Innovation Board, which helps keep their products and services on the cutting edge.
With guidance from the board, Morrison launched a staffing solutions app to help clients acquire talent by, among other things, making work look "sexy". The app is described as being Uber-like in that you rate applicants and post ratings. Morrison also shows clients how to leverage tech to attract and engage staff. From one staff portal, managers can contact colleagues with real-time push notifications, such as "Your uniform should be pressed," or "Deliver service with a smile — you get points!"
By simplifying communications, streamlining knowledge, and optimizing performance on an application designed for frontline teams, Morrison Living is able to improve associate retention and build a community.
Getting Staff Tech Prepared
Max and Regan encouraged Tech Foresight attendees to keep the following watchwords in mind when trying to figure out solutions to pressing problems:
     

Catalyze or spark staff to think differently, faster, more nimbly

     

Cultivate new ideas, new problems, and opportunities

     

Create solutions; build them or buy them
As rapidly as things are changing in today's world, it's important to build solutions and invest in technology that connects your brand to your associates so you can pivot and adjust quickly.
Promoting the Value of Senior Living
At the onset of the pandemic, the value of senior living was being undermined in the media with negative and primarily unwarranted coverage. Morrison produced a publication titled "No Better Place to Be: The Faces of Senior Living — Supporting Our Nation's Seniors Now More Than Ever".
The magazine described how residents in senior living communities enjoy the self-determination and independence they need, as well as how better people make better community. Additionally, the stories highlight fearless leaders who are relentless problem solvers. Download the eBook now.
 Morrison, as a member of Compass Group, the largest dining services company in the world, brings talent, innovation, and the strength of a powerful and secure supply chain to nearly 500 senior living communities across the U.S. And while the company is global, their mission remains simple: "Be the best part of someone's day".
To gain access to Morrison Living's session and all the Tech Foresight sessions, you can register here.
Learn more about the people and services of Morrison Living at www.morrisonliving.com.