Gone is the expectation that 'retirement home' food can be just okay and residents will suffer through it.
By Pam McDonald
"Gone is the expectation that 'retirement home' food can be just okay and residents will suffer through it," says Chef David C. Koelling, President of Strategic Dining Services, an integrated, hospitality-based dining management company and Senior Housing Forum partner. For over 20 years he built and ran restaurants. Twelve years ago he began sharing his restaurant and hospitality expertise with senior living operators.
"Today, 'institutional, cafeteria' food is unfathomable. Residents want and expect a dining experience versus just 'getting fed.' Variety is the new norm [as highlighted in the Dining Report published by Senior Housing News (August 2015)]. Residents want high quality food that's presented well with restaurant-style service."
The Value of Service Professionals
Many senior living developers and operators underestimate the value of working with a dining service professional. David says, "Whether your project is new development, a remodel, or tweaking an existing program, working with someone who knows his way around a kitchen can enable you to accomplish your goals, introduce greater efficiencies, and save money. Savings can be seen during the development stage when selecting equipment as well as great savings over time due to efficiencies in flow and design affecting FTEs.
"Using our operational expertise from our restaurant background as well as senior living dining, we know what works and how to structure the kitchen, equipment and dining room for efficiency," David states.
The Three Essentials
Strategic Dining Services focuses its recommendations on the following three areas essential for dining excellence:
Lay-out and Design "We start," David says, "by thinking first about what the community is trying to accomplish. We know residents don't like to wait. So we review the space or architectural drawings, looking for flow. Over time functional efficiencies add up and can save money.

"We make recommendations from a very practical point of view. We have worked with a few communities that have their production kitchen in the basement, creating opportunities to move food the most efficient way, while maintaining the best food quality possible for the residents. Food quality and presentation are always the end goals.

"Recently we've been asked to retrofit communities with additional dining options like bistros and grilles," says David. "A well-thought out plan for menu and staffing are critical to prevent these enhancements from going dark after awhile or only getting used during special events if they're not located effectively and, instead, are islands within the community."

Equipment "If staff doesn't know the value, best placement, or how to operate a piece of equipment, like the steam kettle or a huge mixer, they will most likely store it inconveniently so it's used minimally or pack it away, not using it at all," David states.

"That's why we help our clients select and place appliances based on the menu, as well as the apparatus' sustainability and durability. Then follow up with staff training to ensure everyone in the kitchen knows its uses and value."

Operational Analysis and Assessment "There's no getting around the fact that dining services are a real expense in senior communities – and, it's not just food costs and labor, it's also productivity." Knowing the best pricing based on the goals for the community as well as break-even points and operational flow can give the greatest efficiencies. A comprehensive understanding of these factors is not necessarily something an architect or business consultant can provide. An operational partnership where both parties are invested in the desired outcomes yields effective results in most situations.
If you are interested in ensuring your residents are experiencing the finest cuisine and friendliest welcome, contact Strategic Dining at (888) 406-1902 or visit their website at: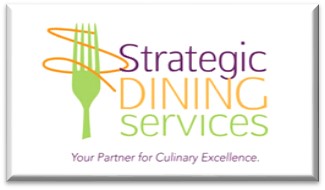 Click on the button below to download a PDF copy of this article: