By Lola Rain
Activities departments and life enrichment staff are getting noticed for their contributions beyond games and entertainment. Thanks to the pandemic, people working in activities have evolved to MVPs of senior living. They've emerged as superstars and are finally getting the attention they deserve. 
Pre-COVID, I had experience with under-budgeted and stressed-out activities departments. They reminded me of school teachers who bought their own markers and poster board at the Dollar Store because they cared about student outcomes. When activities leveled up and got renamed Life Enrichment, it was an attempt to put more emphasis on the importance of their role in the big picture – resident retention. However, the new name didn't mean they got more resources or bigger budgets. 
Now that activities departments have matured in name and reputation, it's time to pay attention to these 2021 trends that will make your community the best option for older adults in your area.
1. Residents Like Virtual Programming
Those living at home have three technology barriers:
Internet access

Device limitations

User knowledge
People living in your community should have access to stable wifi, a communication device (tablet/ smartphone/smart speaker), and assistance to connect and properly use the device. If you did not have these three things pre-COVID, you should have them by now.
Sara Kyle from LE3 Solutions notes that prior to 2020 there was a huge need for high-speed internet and the ability to connect. But it was not until the pandemic hit that some IT departments prioritized the strength of their internet connection. "Multiple buildings have had to invest hundreds of thousands of dollars to enhance their internet connectivity," says Sara. "Especially in hurricane zones like Florida where you'd walk into a building and have zero bars due to the reinforced building materials blocking the signals." 
Now that investments have been made and connectivity issues resolved, virtual programming will continue.
Kelly Stranburg of LE3 Solutions predicts, "Most operators are going to maintain a certain degree of virtual programming even when the day comes where we can do everything in person." And it's not just because of the investment. Residents really like virtual programs for the same reasons we do. They don't have to get out of their pajamas or put on pants. "They have discovered a different kind of convenience," says Kelly.
2. You Need a Geek Squad Solution
The emergency tech adoption in March 2020 was just the beginning. Staff and residents will continue to need tech support. Team members must be comfortable using apps and hardware. "Staff are not as reluctant to embrace technology as we once observed," says Sara, "and a lot of good interactions and learning are happening." In fact, equipment that found its way into a closet got dusted off and used again. What was once rejected, received a second chance; like audio and video devices, VR equipment, digital signage, and more. Staff were more open to learning and implementing these items because the need was greater than ever before.
This need for technology opened up a new position for trainers. "It helps when there is a colleague that you know and trust to educate you," says Kelly.
Kelly points out that a traditional concierge service isn't good enough anymore, and a help desk may not be the perfect fit. She explains the ideal tech guru is "someone who knows how to interact well with residents and can help with basic functions," not someone with a computer science degree. Kelly observes, "Companies are finding a way to make activities a revenue center so it pays for itself." Tech gurus can spend their days doing small group education and one-on-one tutoring. They can even help support family visits using virtual platforms as well as telemedicine appointments.
It is important this role NOT fall on the shoulders of the life enrichment director or assistant. Although life enrichment helped pioneer the way, they have an even greater role to serve without the added stress of being distracted with tech support requests.
3. Create a Bond Between Life Enrichment and Dining
Together, life enrichment and dining can create a better overall experience for each resident.
Pre-COVID-19, the two departments worked in silos. Sure there were many times they had to work together: the Mardi Gras celebration needed Cajan finger food, New Year's Eve had to have flutes of champagne, and the birthday celebrations required cake and ice cream. Sara points out, "The best activities always have an element of food."
For many communities, it wasn't until the pandemic that the two groups learned to work closely together by making meal delivery an experience with special touches on each tray. They found by maximizing efforts and budgets, they could collectively elevate the resident experience.
Because of social isolation, life enrichment and dining staff had to get creative, says Max Mosky of Morrison Living, a Foresight Partner.
Morrison Living promotes collaboration between the two departments through a program they designed specifically to improve the resident experience. Morrison is now streaming Virtual Teaching Kitchens directly to resident rooms with the meal prep items delivered to residents so they can follow along with the chef. "We even expanded our series to star celebrity chef Bal Arneson for our residents across the country," said Max.
Not only has Morrison Living partnered dining with life enrichment, they've also brought marketing to the table. "As move-ins have slowed to a near halt in many markets, we've gotten more creative with establishing synergies to engage prospects more meaningfully by creating tailored food-centric experiences," explains Max. They've developed virtual happy hour kits, chef demonstrations, and more for prospects living outside the community.
"We had nearly 100 engaged participants in our first streamed Teaching Kitchen," says Christine Tremain of Wesley Homes. "From lively cooking demos to sharing the nutritional benefits of healthy ingredients . . . what better way to give a new boost to our relationship building with our prospective residents."

4. Become a Resource for ALL Older Adults in the Region
No doubt there are neighboring elders aging-in-place outside of your community. There is a HUGE advantage for being THE resource for ALL things aging.
Kelly says it breaks down stigmas, especially resulting from bad press. She reminds us, "We have the internal resources to take out into the community."
"This is no longer just a mission for nonprofits," says Sara. She urges organizations to become friends of the greater community. "And when it's virtual, it is not as expensive," she adds. 
The real upside? For a small investment, you will build brand equity, trust, and a stronger pipeline.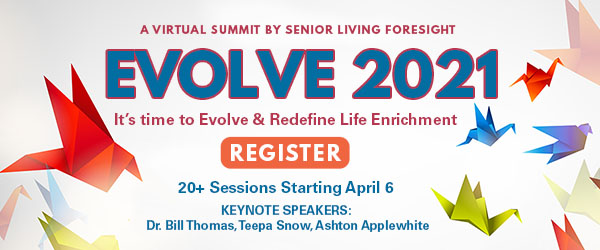 These four trends will make a huge impact on your satisfaction surveys in 2021. By offering the right virtual programs, technical support, orchestrated dining with activities, and a solid outreach strategy, you will see more success come in the form of higher occupancy, less turnover, and a stronger culture. When you can quantify the tangible benefits of life enrichment, it will open the door to offering them better resources including more headcount and higher pay.
To learn more about the inevitable changes of activities departments, sign up for Evolve 2021: Redefining Life Enrichment. This is the virtual summit that will finally expose the true value of life enrichment.
Click here to read comments and join the conversation about this article.