By Steve Moran
I confess to being a shameless idea thief. I was reading an article that was titled something like, "Without These 8 Things, Businesses Will Fail," and I got to thinking about what would those things be in senior living, particularly at the community level.
I started with a fresh sheet of paper (computer screen style), and there were so many things I thought of putting down. But I ultimately decided to put the list out to the LinkedIn senior living community.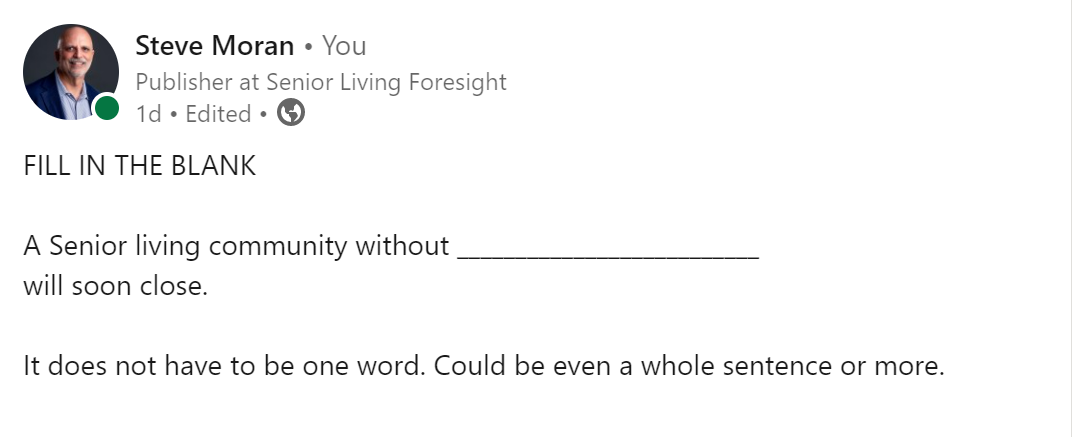 The responses after just a little more than 24 hours were amazing. Take a look:
Technology.
— Sarah Hoit

An integrated approach to hospitality, food service, and engagement.
— Aaron Fish

A trusted, reasonably priced marketing partner.
— Jeff Bell

Innovative PR and marketing methods offering top ROI.
— Bill Pemberton

A culture that supports autonomy, curiosity, and open dialogue amongst all staff and residents.
— Kelly Stranburg

An innovative heart toward better living for residents.
— Jack Cumming

Point of care lab testing.
— Stephen Amadio

Empathy, trust, and supported autonomy.
— Danielle Palli

We can have all the bells and whistles known in senior living, but without thriving happy residents with thriving happy team members a community may close or need a major turnaround. Awesome love your posts always get me thinking. Aloha.
— Courtney Barry

Ownership that supports and empowers its localized community leadership/managers. Well-trained and fairly compensated staff. The staffing crisis has reached a critical mass, and all the latest technology and pretty interiors can't make up for lapses in resident care due to poor management and high staff absenteeism/turnover.
— Patricia Sheehan

Purpose-driven, Heart-centered leadership.
— Dina Schwartz

Innovation.
— Michael Hollen

Servant leadership.
— Fara Gold McLaughlin

A recruiting strategy.
— Bradley Harris

Unfortunately, there are more items than there used to be which could accurately fill in that blank, Steve. The industry is evolving, at an accelerating rate, which is a good thing for those we serve, but will also leave some organizations behind.
— Michael Skaff

Leaders who have a vision and can lead a team that is passionate about pursuing the vision.
— Alexis Roam

Technology and a marketing strategy.
— Amber Cox

Employee retention strategies.
— Andrew Sokolowski

Purpose for all involved that is aligned with goals and infused in culture. This creates focus and motivation to use the systems, implement the plans, and execute the operations. People living with and caring for people need purpose to show up every day and give their best. Bottom line is essential and it isn't enough to sustain motivation for the win.
— Anna Hall

Residents.
— Stuart Hicks

Differentiation strategy and a desire to be the best place to work and receive services.
— Rob Liebreich

Serving leaders and processes.
— Cary Finucane

Happy qualified trained employees.
— Vicki Clark

Looking at the "Like" votes it seems like mutuality = heart is in close contention with technology. Technology can level the field to replace the hierarchical command structure with sharing to acknowledge our shared humanity — owners, bosses, employees, and residents — and our common hopes and dreams.
— Jack Cumming

Heart.
— Barbara Rollins

Affordable access to more prospects.
— Adam Decker

A grip on reality.
— Agustin "Agie" Olmedo

Fun and a culture of customer service.
— Cathy Ellis

A strategy that is both agile and consumer-focused with the people and passion to back it up.
— Kristina Sorrelli

Truly caring staff.
— Mary Ann Donaghy

Value and respect their staff as much as they do the residents. We just seem to have it backwards in how [we] expect staff to happily serve residents when we do not trust or include our workforce in decisions that directly impact their every interaction in the community.
— Sara Kyle

Engaging activities.
— Charles Mattox

An ability to connect with potential new residents and their families on an empathetic level during a very emotional decision-making process, and oftentimes in crisis.
— Drew Anderson
Themes
There seem to be three emerging themes:
Improving the quality of life for residents and team members
Better customer service
Better use of technology
I would love to hear your thoughts.