By Susan Saldibar
A steady but growing revolution is happening within the walls of forward-thinking skilled nursing communities. Instead of looking to the past for answers, they've taken a bolder, more innovative approach. And they're getting rewarded for it. Technology is playing a huge role in creating new, even more successful, skilled nursing communities.
Sarah Hoit, CEO and Co-Founder of Connected Living, knows who these communities are because she's been working with them. "I'm honored to be working with so many innovators in the skilled nursing marketplace who are all making, outside-the-box decisions by adopting new technologies in their organizations, including robotics with temi." Their bold moves are allowing them to come out of the pandemic stronger than ever, providing a better quality of life for residents, families, and staff members," Sarah says.
Here are three providers who are flourishing, thanks to working with the Connected Living team:
Nexion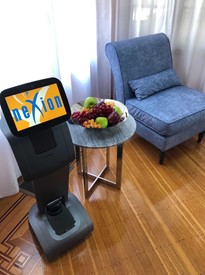 Nexion is focusing, not only on residents but also on making it easier for employees to engage with residents by deploying several Connected Living applications, including custom-designed digital signage, In-room TV, Alexa interfaces, and the Temi Robot to help with staff efficiency and effectiveness. These technologies will help augment staff, create efficiencies, and free up staff members to focus on the residents themselves, as well as bring family and resident connection and engagement. It also sends a message to referral sources and the public that Nexion is committed to communication, education, and virtual connection.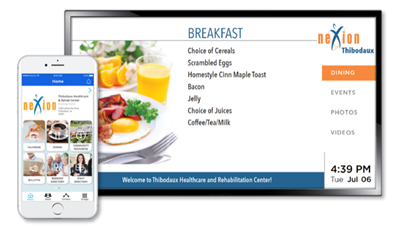 Francis Kirley, CEO:
"Nexion Health has always been a technology innovative company, but the pandemic has challenged us and made us embrace great technology to meet the daily challenges of the skilled nursing and assisted living residents and families. From virtual tours, meetings, and surveys to enhanced communication with all of our families via technology we are in a better position for the future. As we look to new partners like Connected Living to enhance our communications and technology resources at our assisted living facilities."
 Creative Solutions in Healthcare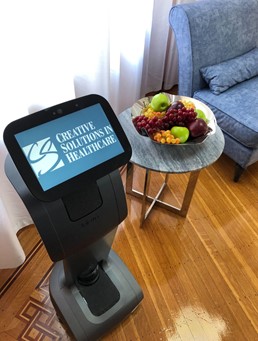 Creative Solutions in Healthcare is leveraging the Connected Living Temi Robot and the mobile app to connect families with residents. Creative Solutions is focused on offering highly personalized programs around families using Connected Living. They anticipate achieving noticeable increases in quality and quantity of connection and engagement.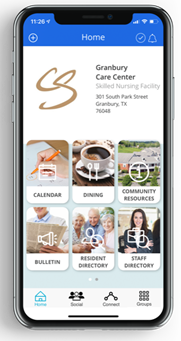 Gary Blake, CEO & Co-Founder:
"We strongly believe that technology is one of the drivers of quality care. We are constantly seeking channels to improve resident's experience. At Creative Solutions in Healthcare, we embrace innovation– whether that is through DataIQ Analytics, cutting-edge therapy equipment, or personalized app development, like the Connected Living Mobile App. This customized app will provide families a series of resources, including new ways to contact their loved ones. This partnership with Connected Living is another investment in our resident's quality of life and in the innovative future of our company."
A life lived for others is a life worthwhile — has been the foundational principle of Creative Solutions in Healthcare since our inception in 2000. Today, our homes across the state of Texas, serve more than 5,000 seniors with the respect, dignity, and compassion they deserve."
Signature Healthcare
Signature made an early decision to go full out, embracing all the Connected Living applications, including the Temi Robot, across their entire portfolio. As innovators, they recognized the need to address what they believe remains an urgent need today to "meet the moment" by providing innovation that addresses the many changes and challenges the last year has brought. That decision will help Signature come back stronger than ever.
Joe Steier, CEO:
"We believe that innovation and connection are the key to the future of skilled nursing and assisted living. Signature knows that families demand a window into the community, that residents need engagement, and that staff needs modern tools to succeed and thrive in their jobs. Technology is a must-have service now, and we want to be at the forefront. I do not want to dip my toe in the water, we want change system-wide and we are investing in that change. We are working with Connected Living to bring mobile apps, robotics, signage, in-room TV, and Alexa to our buildings starting this summer and plan to have all constituents' properties connected in the next 2 quarters by the turn of the year."
What Every Quality Nursing Home Needs
Here are the most critical connection points every nursing home needs:
Staff Efficiency and Effectiveness: Instant access to who is available on the staff to handle their needs. Helps them get help and answers from either a mobile app or a web-based resident portal. This brings peace of mind and efficiency for families, especially during the challenging time of post-acute recovery.
Connecting Loved Ones: 1-click, two-way access to connect with loved ones to/from any mobile device. This also saves staff time in having to create zoom links and initiate the meetings for families to communicate.
Calendars, Menus, Announcements, Wellness Tips: Available through the app and multiple other portals.
Resident & Family Education: Educated families mean a better experience for everyone. A single, unified platform is the right way to do this. Adding educational materials to the ecosystem supports wellness and recovery. Examples might include chronic condition management, symptoms to be aware of, and so on. 
Therapy and Wellness: This includes therapeutic content (such as mediation and relaxation) and virtual programs, streaming video, classes, and events residents can attend from their rooms through In-Room TV.
Entertainment: A wide range of person-centered entertainment is accessible to the resident through a laptop (browser), mobile app on smartphone or tablet. It is also available through In-Room TV. 
Self-directed engagement: This lets residents choose when and how they want to interact with the world around them. This self-directed engagement is important to health and wellbeing as well. A bored or frustrated patient may not be as inclined to adhere to their recovery plan.
You can learn more about how Connected Living innovation is helping senior living communities thrive by downloading their Ginger Grove case study.
Connected Living is a Foresight partner.