By Steve Moran
This may be one of the most perplexing questions of the whole pandemic.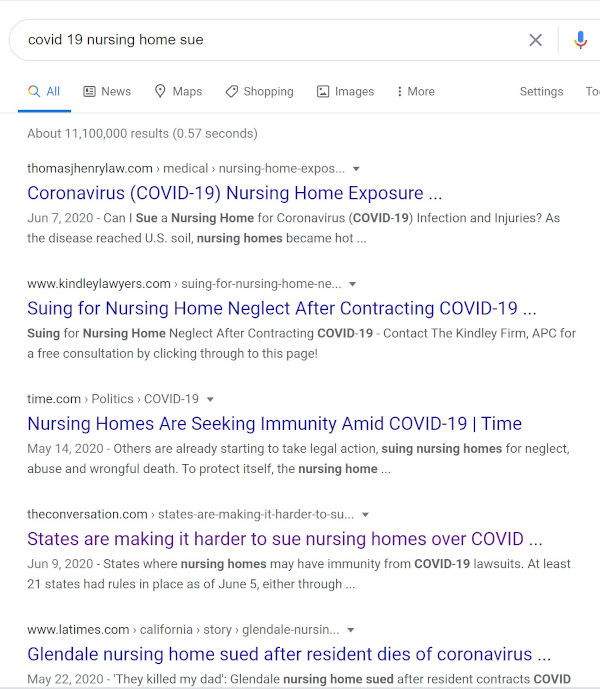 The lawyers say no

AARP says no

Senior Living trade associations say yes

Some states say yes

Other states say no
If you knock around Google, you will get millions of results when you type in searches like "nursing homes and lawsuits" or "senior living and lawsuits". And while many results are about lawsuits already filed many, many of them are law firms trolling for senior living residents, family members, and workers who want to sue senior living communities.
The Problem is Complex
We know with 100% certainty there are many things senior living communities can do to minimize the risk of COVID-19 entering their building. But we also know that even if a community does it 100% right, it is impossible to protect the community from having any infections. People need to come to work and go home, vendors and healthcare providers need to come into the communities. Even with telemedicine, from time to time residents need to go out for medical care.
There is some randomness that cannot be eliminated.
Particularly in the early weeks, critical shortages of protective gear compounded the risk and that undoubtedly increased the number of infections. Attorneys will likely argue this is no excuse and that communities should have had adequate emergency supplies and back-up sources. And the communities will argue it was an extraordinary time and that the government failed them and their residents.
It is also true that in a number of states COVID-19-free communities were forced to accept infected residents.
Something Other Than All or Nothing

When communities had infections some were able to contain the virus and limit infections and limit or prevent deaths. In other communities (mostly but not exclusively nursing homes), the virus ran like wildfire, consuming or damaging the lives of nearly everyone in its path — residents and staff.
As an industry, we circle the wagons and say no one should have any blame at all, because what happened was so extraordinary and unpredictable. This does a horrible disservice to those who did it as right as humanly possible. It also excuses bad behavior.
What we need is an atypical standard. One that will keep those operators and communities who took reasonable precautions out of court. And conversely, hammers those operators who cut so many corners that if a pandemic like this were to occur, disaster was a near-inevitable consequence.
Regardless
Regardless of what happens, the legal system will extract dollars out of the system. Likely, across the country, hundreds of millions of dollars. This is its own kind of tragedy because it will mean higher costs for private pay residents and ultimately higher costs to taxpayers.
Another Wake-up Call
We can make this better by being willing to call out bad operators. We need to not just shake our heads about bad operators. During times like this, it is clear they cost all of us dearly. It makes doing what we do more expensive for everyone. It gives senior living a bad reputation. It invites more regulation. When are we going to stand up and say ENOUGH?