By Steve Moran
While at the Residential Assisted Living Association national convention a few months ago, I had the chance to visit with Brian Pinkowski, the president of the association. My first question to him was why do we need another senior living trade association Because some would argue we already have too many associations.
By way of background, this association considers, for purposes of membership and constituency, any senior living community that has 1-19 beds to be residential assisted living.
Unique Challenges
Brian explained that residential assisted living communities have some very unique challenges that are not a factor for large communities. For instance, The Facility Guidelines Institute had a number of design standards that are adopted by health departments and those design standards were completely inappropriate for residential-style care homes.
One example: They were planning on adopting a guideline that would require every bedroom to have its own private bathroom. Their thinking was that it would make it so no one would need to go out to a corridor. It seems logical, but it doesn't make sense in a residential-style home.
The Size of the Opportunity
As I talk to owners, operators and capital providers of large scale senior living communities about residential senior living, they largely see it as insignificant. I am not so sure. The association is collecting data on residential assisted living communities and here is what they have found:
They have looked at 42 states

There are more than 27,000 homes

This translates into what they estimate to be 300,000 or more bedrooms.
Take a look at this chart: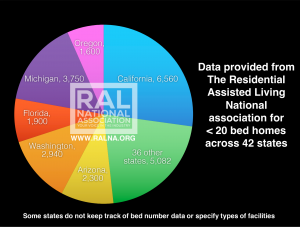 What It Means
When you look at the number of homes in California and Michigan and even Arizona compared with other states, it suggests a huge opportunity. One of the questions that remains unanswered is what impact, if any, it has on large senior living communities. There are, at least, these possibilities:
These communities are negatively impacting them.

They are serving a population that would otherwise do something else, meaning no impact.

They are expanding the awareness of senior living . . . of assisted living and making the market stronger.
The Big Challenges
I asked Brian about the biggest challenges these operators face. It is pretty similar to what large operators are facing:
Ageism, meaning people do not want them built in their neighborhood

Staffing

Occupancy
The Association
Today the association has 1,000 members, so they have more than 27,000 members to acquire. Unbelievably, you can as of the time this article is being written, join with a basic membership for FREE, which is a pretty good deal.
You can watch the whole interview here: