By Susan Saldibar
The stories just keep rolling out about innovation driven by COVID. We've seen some impressive results and continue to do so. Technology, as most of us realize, has played a central role. This is no more evident than at Ginger Cove, a vibrant, resort-style continuing care community in Annapolis, Maryland.
For communities that responded quickly and decisively, like Ginger Cove, technology was a lifeline, enabling them not only just to survive the pandemic with less disruption but to come out stronger. Many accomplished this by expanding upon existing enrichment programs and, in the process, achieved an even higher level of connectedness between people, information, and resources.
Initially, the challenge for Stephanie Baker, Ginger Cove's Resident Services Specialist, was one that so many senior living communities were grappling with. How do you reduce resident isolation, while increasing engagement between families, residents, and staff?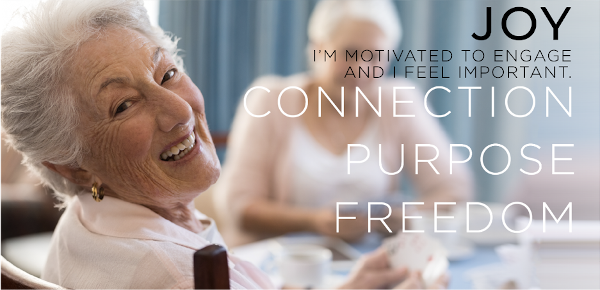 Trade Handwringing for Action
One thing that Ginger Cove had in its favor was its quick response to the pandemic. Trading handwringing for action may well have made the difference. That and the Connected Living enterprise communication platform (a Foresight partner), which had every tool they would need, and more. (You can read the full case study, which includes tips and lessons learned, here.)
Working with the team at Connected Living, Stephanie knew they would need the following:
Centralized, single-point access to organize their content.
Ability to accommodate residents who opted to remain in their rooms, which meant apps that would run on their in-room TVs.
Ability to distribute important announcements about COVID and related information.
Content-rich apps that would cover a broad spectrum and offer choices to residents.
All this plus they were dedicated to continuing to support their culture of wellness, centered around the seven elements of wellness: physical, intellectual, social, emotional, spiritual, vocational, and environmental.
A Communications Hub
Central to their ability to achieve all this has been Connected Living, quickly becoming the "hub" for all activities and communications during this time. So not only did they survive the pandemic, they actually came out stronger.
The Connected Living platform gave Ginger Cove access to multiple content options including exercise classes, church services, a program called "Coffee and Conversation", and lifelong learning programs through the Great Courses Plus app. All were provided to residents either on their tablets or through in-room TV.
The staff has also used Connected Living to access online bulletin boards and calendars to keep everyone in the community informed.
The results are impressive:
Due to quick and timely flow of information, low COVID-19 cases were experienced throughout the pandemic.
The ability to conduct video tours and Zoom tours provided strong virtual access and occupancy was sustained at 96%.
Efficiency of the Ginger Cove team increased by 40% by using the Community mobile app, which meant less time spent looking through paperwork and phone books.
Resident and family adoption of the Community mobile app increased by 84% within 14 months due to the ease of sharing critical information.
A Playbook for Success
It's hard to look at the Ginger Cove case study and not to be impressed with how they have used technology to connect people to information, resources, and to each other during a crisis. It's a playbook certainly more communities wish they had. But it's never too late to start.
"Overall, our partnership with Connected Living has enhanced our ability to provide enriching wellness programming during this difficult year," Stephanie Baker says. "And it's provided us with a multitude of innovative resources that we will continue to utilize in our community."
Sarah Hoit, CEO of Connected Living is heartened by what she sees in communities like Ginger Cove. "We are seeing that those communities willing to embrace the need for innovation and virtual connection are going to be the ones that will bring 'peace of mind' to frightened families in the wake of the pandemic and it will drive occupancy and wellness," she said.
You can download the Ginger Cove case study here. For more information about Connected Living, please visit their website.
Click here to read comments and join the conversation about this article.