New strategies will be shared at the 2017 NIC Spring Investment Forum. New sessions focus on how to partner with providers outside the real estate silo.
By Bob Kramer, CEO, NIC
New sessions focus on how to partner with providers outside the real estate silo.
The historic growth of the aging population in the U.S. and across the globe is prompting a boom in non real estate based health, wellness and supportive services designed to help seniors age successfully. This trend has created significant opportunities for seniors housing and skilled nursing operators to collaborate with innovative care delivery and coordination organizations, providing new ways to care for frail seniors more efficiently and effectively.
These new collaborations — and the value they can create — will be a key focus at the 2017 NIC Spring Investment Forum in San Diego this month.
The new sessions will explore strategies and case studies on capturing value by creating successful partnerships with care and service providers outside customary, real estate-based operations. These sessions will, of course, be coupled with NIC's traditional and highly popular sessions on seniors housing and skilled nursing local market conditions, supply and demand analysis, valuation and pricing trends, and overall economic conditions.
Click on the image below for the 2017 NIC Spring Investment Forum Infographic: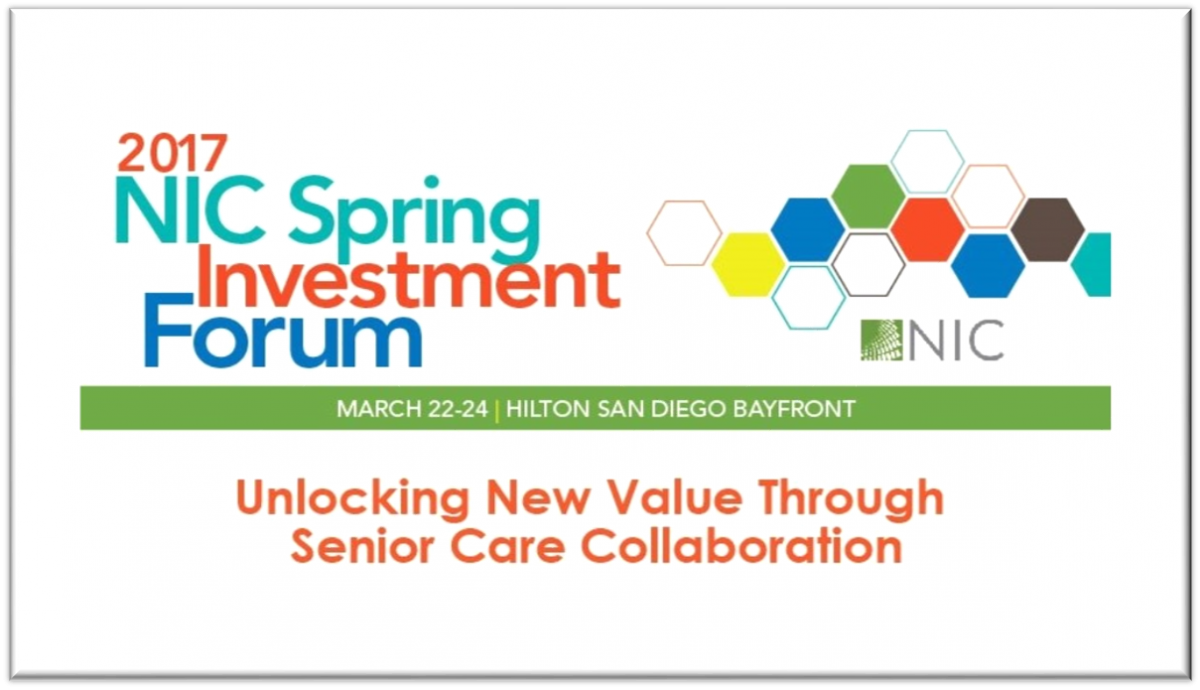 Here are a few session highlights from the new topic areas:
How to Capture Value
These sessions will detail the operational and financial opportunities some seniors housing and skilled nursing operators and their investors are exploring beyond real estate transactions, including value-based care collaboration and new technology initiatives.
The Value-Based Care Revolution: The federal government is pushing to reduce the cost of care while improving outcomes, with major focus on the most costly Medicare recipients – frail seniors with multiple ADL needs and often multiple chronic conditions. These seniors make up most of the residents in seniors housing and skilled nursing communities. Market forces, as well as government policy, are now driving this shift away from traditional fee-for-service to value-based care delivery and payment strategies such as alternative payment models, bundled payments, and Medicare Access and CHIP Reauthorization Act (MACRA). This session will explore these trends and how seniors housing and skilled nursing operators can create value by showing that they are part of the solution.
Hot New Investments in Senior Care:

The increasing focus on value has not escaped investors' notice. Venture capital alone invested more than $200 million in home care companies in 2016, and investors who traditionally focused on biotech and pharmaceutical health care spaces have funded new primary care service enterprises that are innovating care for frail seniors. This session will explore how these companies that target frail seniors use sophisticated platforms designed to increase value to payors and consumers, why investors increasingly are paying attention, and how these companies present opportunities for seniors housing and skilled nursing providers.
Creating Successful Partnerships
This topic area is designed to explore partnership opportunities that create value for an attendee's organization, care partners, payors and those assuming risk, as well as for investors and seniors.
Building Partnerships for Clinical & Financial Success:

The focus on quality and value is pressuring providers to seek solutions outside their building walls. What's key is finding partnerships, not for the sake of partnering, but to collaborate on achieving shared operational and financial goals that ensure success for both organizations.

Seniors Housing's Role in the Home Care Evolution:

The private-pay home care industry is changing rapidly. While the old contractor-agency model persists, more home care organizations are increasingly moving toward technology-enabled, employment-based models as well as online direct-to-consumer platforms. Some are even exploring retail avenues to attract consumers. As these home care organizations — and the capital providers who invest in them — experiment with different distribution channels, how can seniors housing partner with them?
These are just a few of the new strategies we plan to share at the 2017 NIC Spring Investment Forum. Join us and register today. We look forward to seeing you there.