By Steve Moran
For years, the senior living industry has been talking about Margaritaville (more precisely Latitude Margaritaville) as a senior living concept that gets it 100% right. They appeal to a large, niche group of older people and are blowing up the 55+ active adult space.
But while there's been lots of talk, I never actually talked to anyone who visited.
When I was asked to speak at the LeadingAge Florida conference this year, I figured it was a perfect excuse to visit. I reached out to some executives through LinkedIn, who put me in touch with Blake Bellucci, associate vice president at Finn Partners, their PR agency, who arranged a tour with Stuart Schultz, the VP of residential community relations for Margaritaville.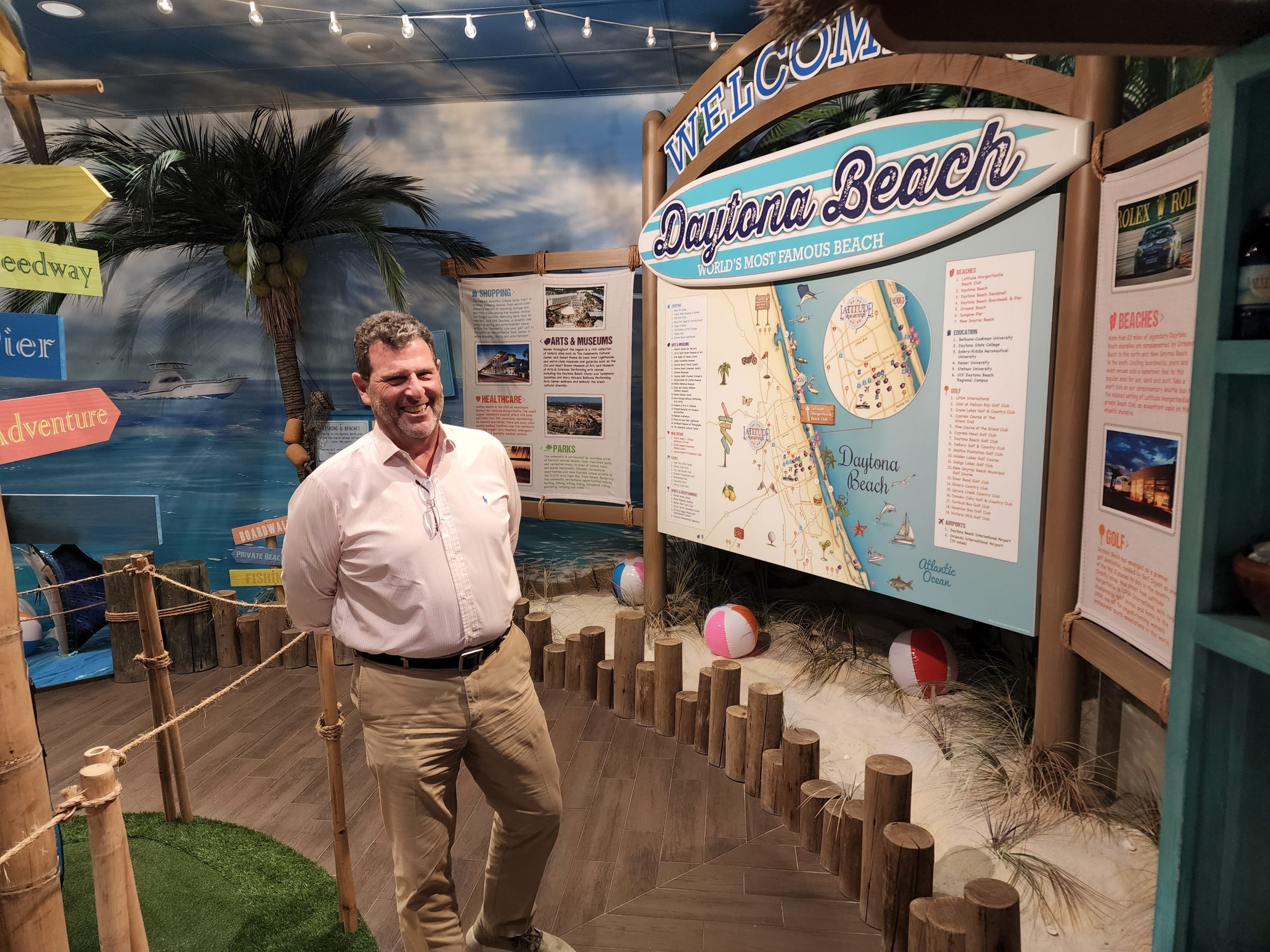 A Remarkable Experience 
My tour started at the off-site sales office, which is located about a mile from the community. The entire sales process is remarkably low-key, which is not surprising, given the interest in calling Margaritaville home. …
Imagine selling senior living under these conditions.
Not for Everyone
At breakfast the morning before my visit, I was looking for coworking space to use for a few hours to do a couple of Zoom meetings and our first episode of Marketing Monday, with Dave Grauel at Dreamscape Marketing (a Foresight partner). I mentioned on the phone that I was visiting Margaritaville.
An older guy came over to chat with me and told me he had two friends who moved in and didn't like it, but that they resold their homes in days at a huge profit.
Asking People What They Wanted
As the developers were scoping out the project, they surveyed 40,000 older people and asked them what they wanted. Here is what they said:
Access to health care
Access to an airport
Not golf courses
Not so much tennis, but yes to pickleball
Zumba, Pilates, and yoga
Big kitchens, a kitchen Island, and lots of common space in the homes
A large laundry room and large bathrooms
The monthly fee includes backyard as well as front yard maintenance.
Visiting
You walk into a themed sales office, check in with the front desk, do a quick little walk through a 100% Margaritaville-themed display, and take a look at the layout of the community.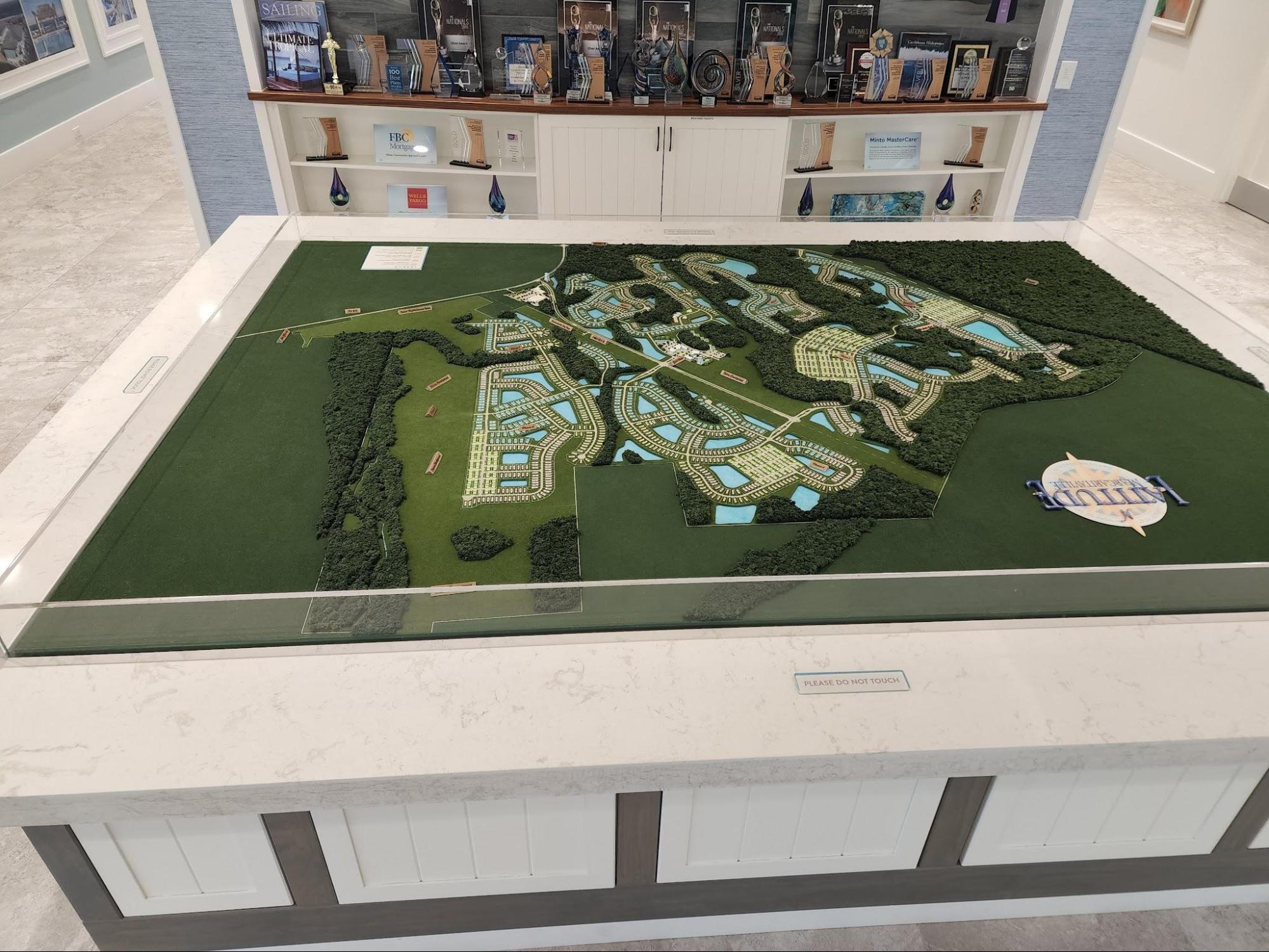 You then step onto a bus that will take you to the model homes. There is a greeter who gives you a map and description of the models and then turns you loose to explore them without a salesperson for as long as you would like.
A few photos from inside the models: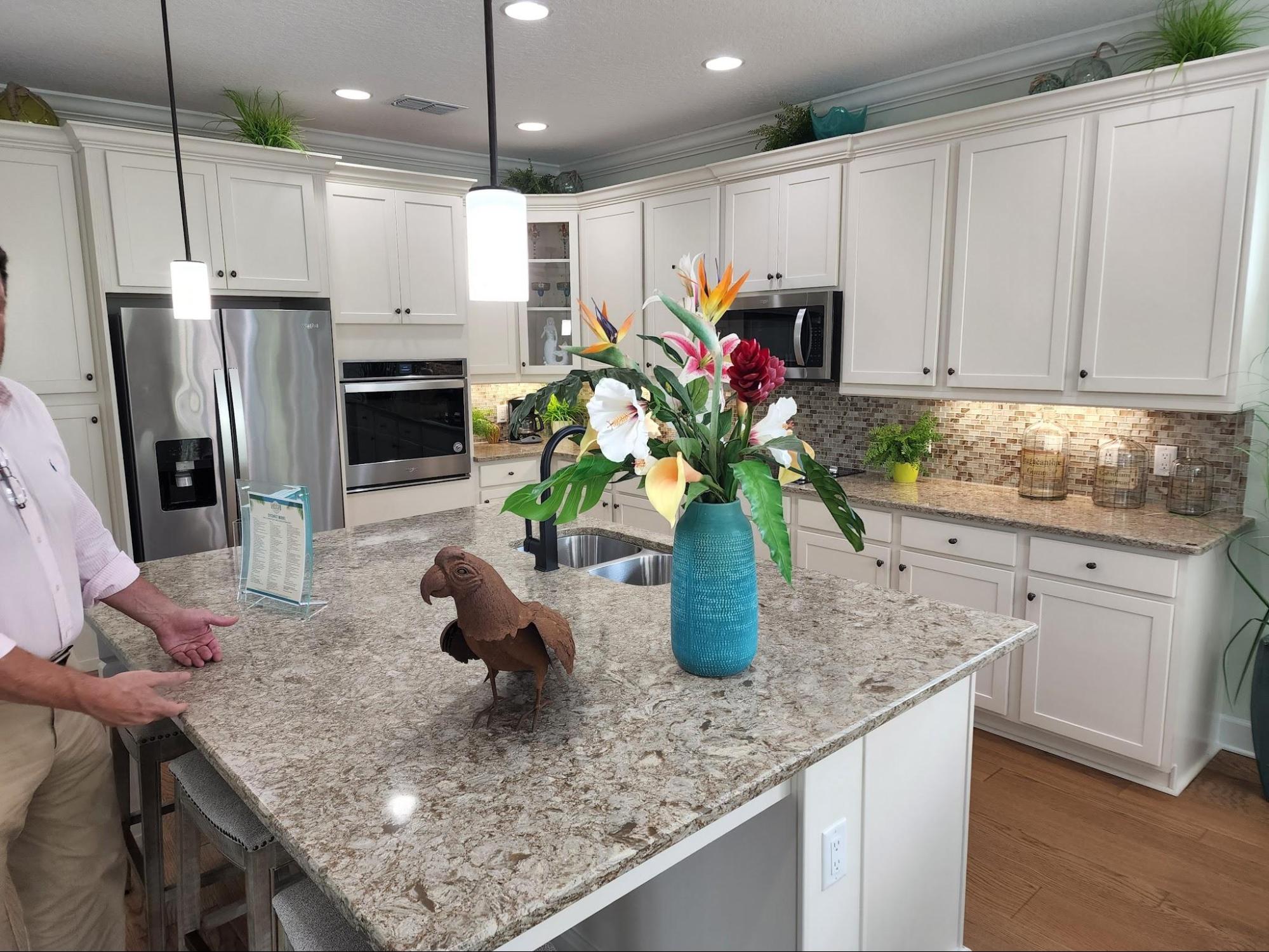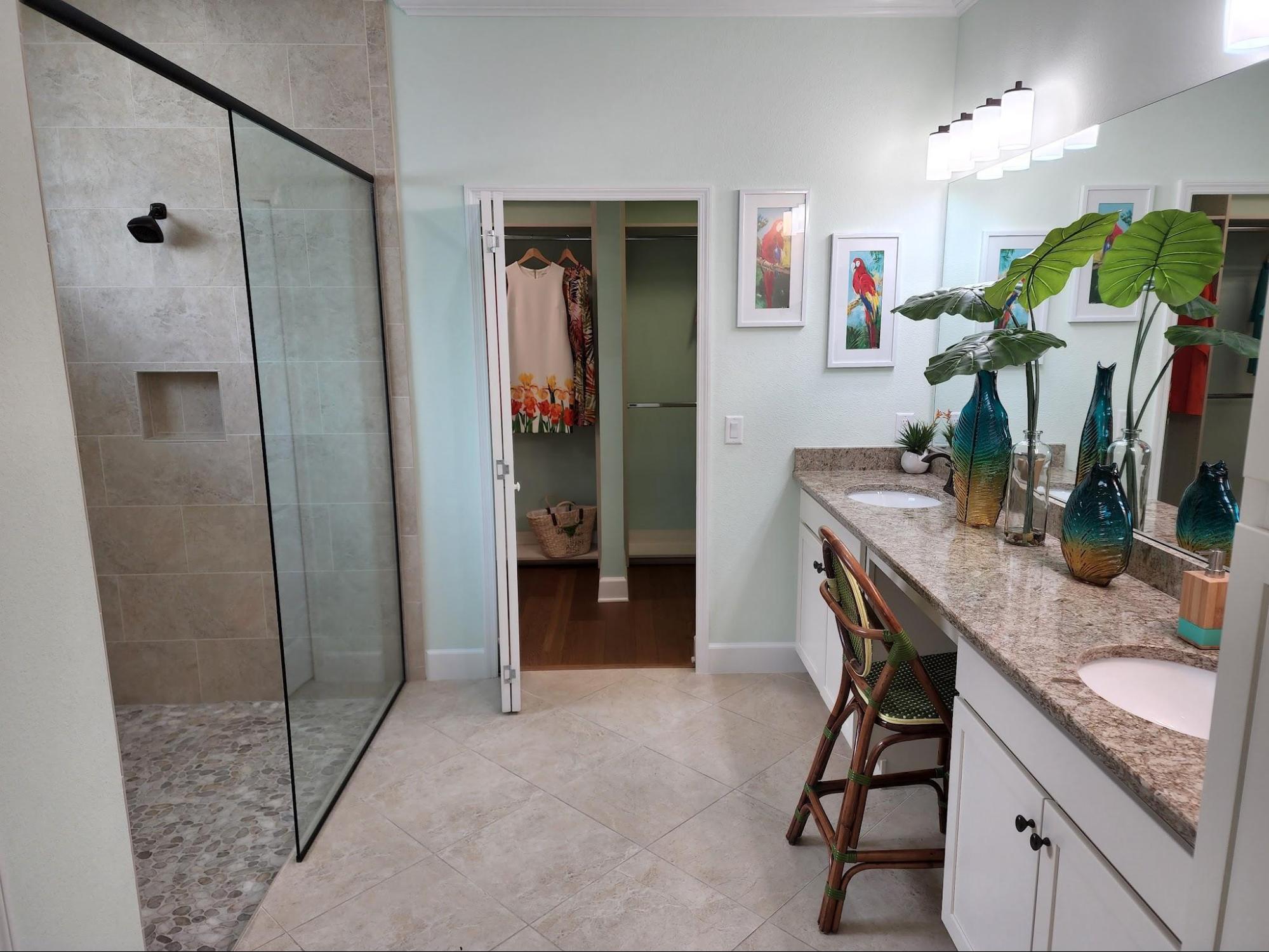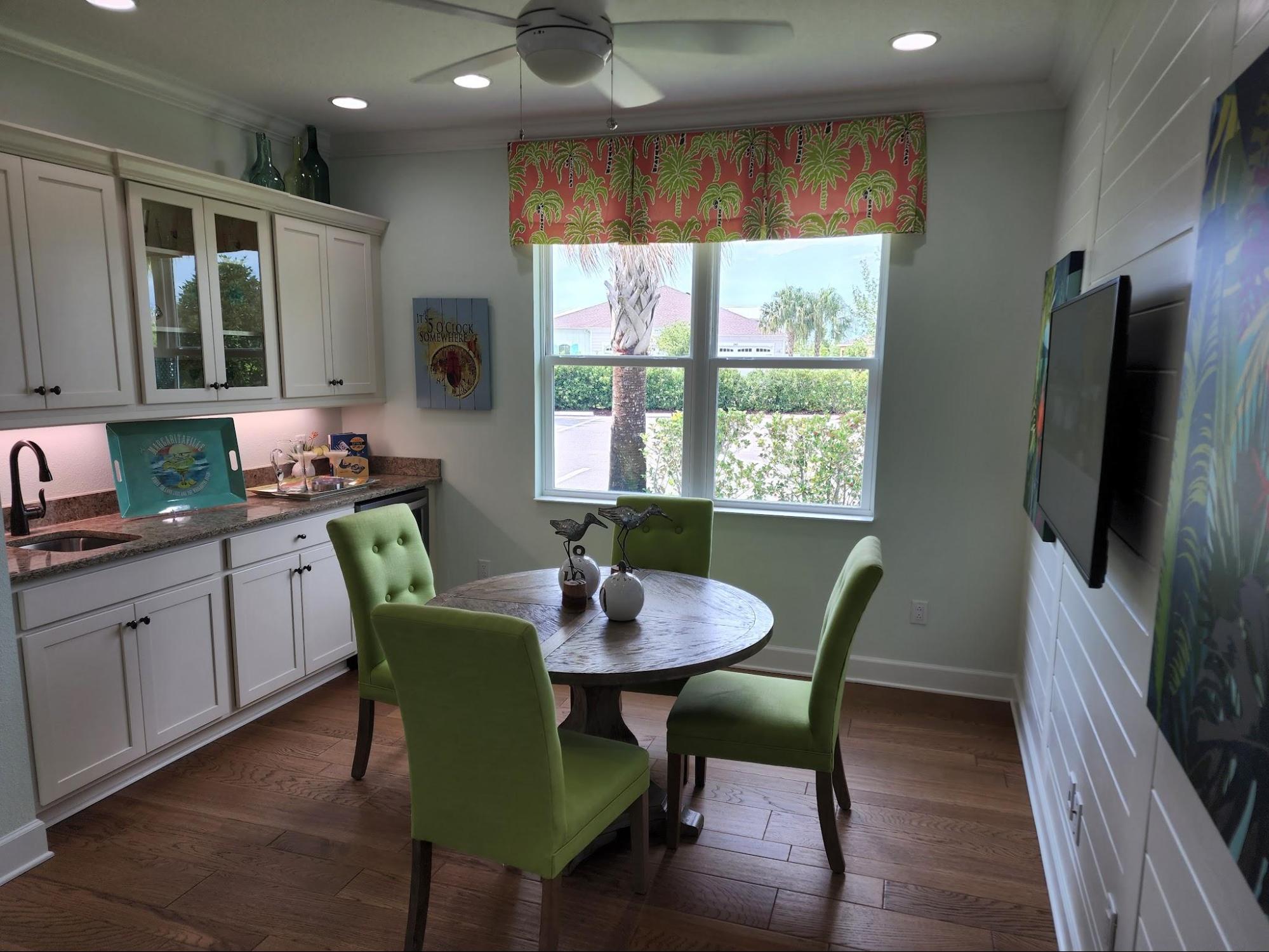 Notes and Impressions
Here are my notes and impressions:
Every single aspect of the experience is fun.
They have huge demand, with people coming from all over the country. People will drive 14 hours from Cleveland, singing along to Jimmy Buffett tunes all the way there.
There are ultimately about 4,000 homes; 2,700 have been sold, and about 2,100 of them have been delivered to their new owners.
They expect it to be fully sold out in another two years and fully built out and occupied in three years.
Right now they have an astonishing two-year waitlist, meaning that if you signed up to purchase today, you would wait two years to occupy. This is why those who are selling are making a killing.
Most people are not golfers, and they do not have a golf course, but those who do golf have access to several first-class courses in the area.
Speaking of details, every single purchaser receives a "frozen concoction maker" at closing.
The homes consist of freestanding homes and homes with a common wall. There are no multifamily or condo-style units in this development.
The big lifestyle appeal is the Town Center which includes a restaurant, an open-air bar, an indoor lap pool, a huge fitness room, a big open-air stage where there is live music five evenings a week, and a hotel-style outdoor pool.
The campus also includes tennis and pickleball courts, a dog area, and a walking trail.
The theme is creating community and making friends.
The first day they were open, they took 180 reservations, and there was nothing to see except the sales office.
They have resident ambassadors (paid positions) that help prospects figure out if it is a fit.
Their average age for residents right now is 63.
They are already beginning to have two generations move in — a daughter who just turned 55 or 56 and parents in their mid to late 70s.
Nearly all of the activities are resident-driven.
Lessons for Senior Living
Here are the big senior living takeaways for me:
We need to be asking the consumers what they want. Right now we mostly guess at what they want and or need, which is really trying to figure out what we can sell. We know food is important, but how important, and what is it they want? What about common space versus bedroom space? Bathroom sizes, laundry room and storage space.
Trying to build something that appeals to everyone means you don't really appeal to anyone. The developers of Margaritaville know there are millions of older people who would have zero interest in moving into their communities, and that is fine. They only need the people who really really want to be there.
Building in fun is critical to their success, and maybe to ours as well.
Creating opportunities for residents to create community is a powerful draw.
We need to be more focused on letting residents drive and execute life enrichment programs.
When we get things right, people will line up to move into our senior living communities, and this could likely be true even in assisted living.
I continue to believe with all my heart that when we get the culture and programming right, there are enough people out there who would love to move into our communities that we do not need an age wave or silver tsunami.