By Susan Saldibar
Do you have a Facebook page? How about a YouTube channel? This is sort of a trick question, I admit, because if you have a Facebook page, you'd better also have a YouTube channel. YouTube has been nipping at the heels of Facebook for a while now and, in some demographics, it's even taken the lead. According to the folks at Sage Age Strategies (a Senior Living Foresight partner), senior living communities are finally getting serious about video and lining up their YouTube channels to be a big part of their marketing strategies. Are you?
An April report, published by Pew Research, brings the numbers into focus. YouTube now has 2 billion active monthly users. Wow. Now, take a look at these stats of adults aged 65 and older: 
Facebook: 46%

YouTube: 38%

Pinterest: 15%

LinkedIn: 11%

Instagram: 8%

Twitter: 7%

Snapchat and WhatsApp: 3% each

Reddit: 1%
That's interesting enough, but then there's this: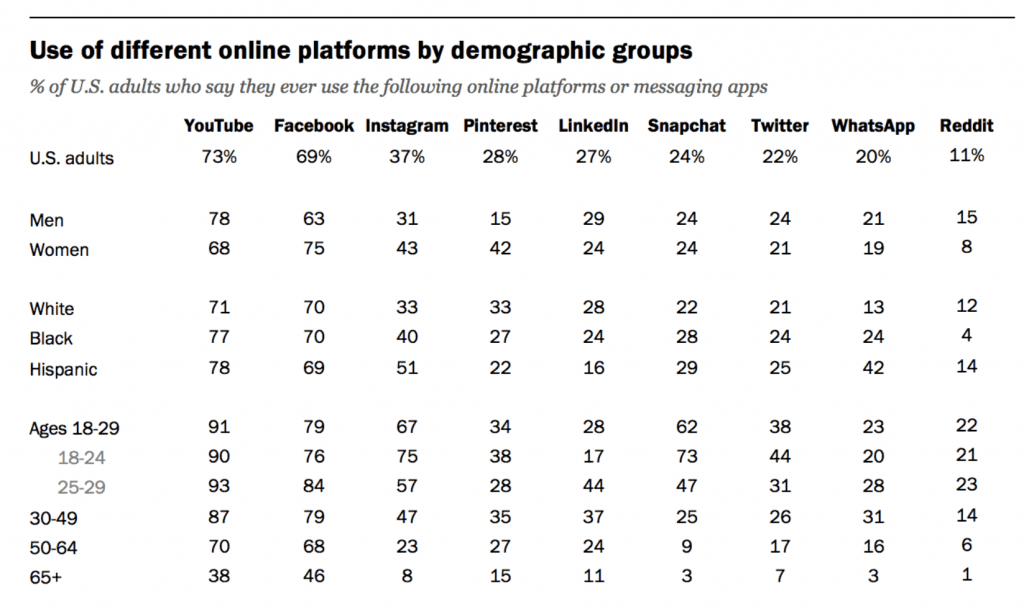 Wow again. Look at the 50-64 year olds. YouTube just beat Facebook. 
Assuming you take Pew Research seriously, why aren't you "rockin'" your YouTube channel? Maybe you are. But, according to Sage Age's Debra Gawet, Social and Digital Content Strategist Supervisor, many communities remain shackled to old ways that leave little room for creative new strategies, especially ones that put YouTube videos front and center.
"There is a sense that it's expensive to get into video," Debra tells me. "But that's really not true. It's a lot more economical to do video than many people think, if you look at the ROI," she adds. But a big part of understanding what's happening with YouTube is for senior living communities to better understand the powerful engagement characteristics of video and its power to actually bring in leads.
Here are some examples of the things senior living communities are publishing on their YouTube channels:
Virtual tours

Special days/holidays

Events

Outings

Interviews with residents and staff
As Debra explains, a great thing about having an active YouTube channel is that it does double duty. In addition to creating a "go to" place to learn more about a community, it creates such a nice repository of videos for communities to draw from and use on websites, promotions, and social media campaigns. 
As an example, Debra points to a Sage Age client, YourLife™ Senior Living, operates six communities throughout Florida. They have created a virtual tour video, which they consider to be "evergreen" content because it can be re-shared and used for a long time, over multiple channels. (Talk about a great ROI.)
"Virtual tours like this can be placed on the website, sent out in an email newsletter, and shared on social media using the same link can be ," Debra says. "They can even be used in Facebook ads and video ads, which have been proven to be far more engaging than a static image alone" 
The main take away from all this is that operators need to get comfortable using video and using a YouTube channel. You're going to need it over the months (and years) to come. But Sage Age also wants you to know that it doesn't have to be an uphill climb. "We want to make it easier, not harder, for senior living communities to take advantage of the power of using video," says Debra. Maybe now's the time to get moving.
For more information about Sage Age Strategies you can visit their website.