By Steve Moran
Every single month, sales people sweat occupancy. And not just salespeople, it is executive directors, regional directors of operations and sales, and EVERYONE in the C-suite. The problem is that there is no single, wonderful magic bullet to get a senior living community full.
Oh, how rich I would be if there were a single solution and I possessed it!
Lots and Lots of Little Things …
If a senior living community does nothing, they will get some move-ins. If they do ordinary efforts, they will have ordinary occupancy, which right now is sitting well below 90%. Those communities with high occupancy are doing a whole bunch of little things right over and over again.
The right marketing
The right technology
The right tour
The right sales process
The right story 
The right resources
You do all of this right, and then you often hear …
But How Do I Pay for It?
We know that about 80% of prospects who tour senior living communities have the money thing mostly figured out. They have ready assets or family members who can write the check.
The other 20%, though, need more help. These are the ones who:
Tour and never come back
Take forever to decide
Ask if they can move in now and pay later
Most of the time these prospects have a home to sell or VA benefits on the way but no idea how to immediately get easy access to those assets. They need a financial bridge to help them move now. And they just don't know how to get from here to there.
The $$$ Solution
A new and powerful tool is now available to you and your organization. Imagine having a resource that can get you one additional move-in per community per month. That is what Second Act Financial Services (a Foresight partner) is doing, with amazing results, for a bunch of senior living organizations with their bridge loan programs. Here is what should make this a no-brainer for every single senior living community: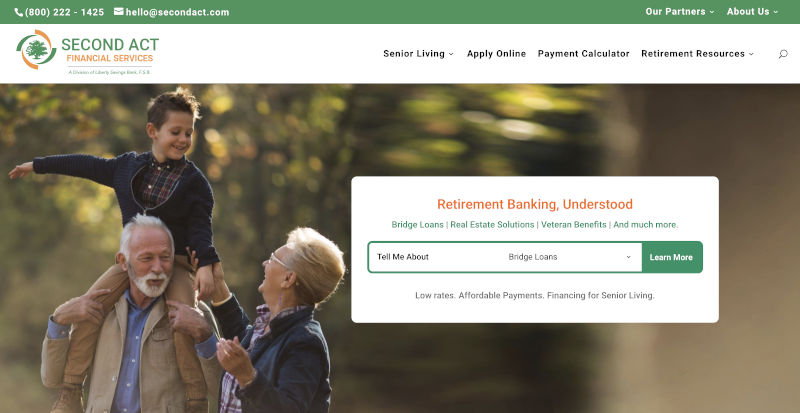 It is simple for salespeople to use. During the sales process, it might go like this: "We know some of our families have questions about how to pay for senior living. Here is a resource that will help you figure it out." At this point, prospects can go to the website and apply online or chat in real time with a lending chaperone who will help them find exactly the right solution for their circumstances.
They can integrate with your CRM.
They can provide your organization with a dedicated web page, like this one for Artis Senior Living.
They have even created some explainer videos (which normally I hate) that are terrific. Here is a link to just one.
Oh, and in the vast majority of cases, they can save your operating budget from pesky per-month network fees or per-loan fees charged by other nonbank lenders you may be using.
Imagine being able to help 12 additional prospects in each of your communities. That is 12 families whose lives are transformed. It is an additional 2% to 10% occupancy over the course of the year. This is transformational stuff.
It's Happening All Around You

Over the coming months, we will be telling stories about residents and families who have been helped — and about senior living organizations and communities that are seeing new move-ins. The housing market is coming back to earth. Now is the time to sharpen our focus as operators.
As a tool in your sales process, embedded bridge financing can make it more likely that the 20% who struggle with the finance part will move into your community and not someone else's.
Now what? You can get more information or get started with Second Act Financial Services HERE.