By Steve Moran
It is no wonder our economy is in trouble. Wall Street wizards are casting lots, throwing bones, reading the clouds, and then proclaiming themselves experts in all kinds of things, including senior living.
On July 11, 2023, the Wall Street Journal published an article titled "Is Work From Home to Blame for Senior Housing's Muted Recovery? "by Will Parker. The author proposes the reason senior living occupancy is soft is because of the "work from home phenomena" following the COVID pandemic.
I read the article and went, "HUH?"
I had never, not once, heard anyone in the industry suggest that.
And one would think part of figuring this out would involve reaching out to a bunch of senior living operators and asking them what they are seeing in the marketplace. Pretty simple actually. Just one question:
As you talk to prospects, are you hearing that because more people are working at home, they are choosing to not use senior living?
Nope, that didn't happen. Why bother talking to real experts, people working in the trenches? Instead he talked to a bunch of analysts who looked at financial data and rolled dice and clouds, then posed like experts.
Baffling actually.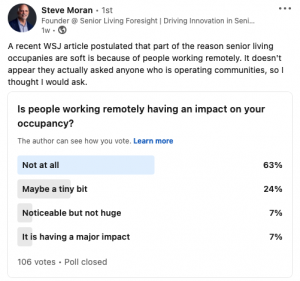 Since the mighty Wall Street Journal couldn't be bothered, I went to LinkedIn and asked the community, those who are actually working in senior living, what they are seeing.
But it turns out that 87% of those people actually working in the industry say remote working is having zero (63%) or next to zero impact (24%).
Misinformation is a huge problem in the senior living sector, and we should expect better from a news organization like the Wall Street Journal.
This is just further evidence that we need to be much more aggressive about telling our own story.