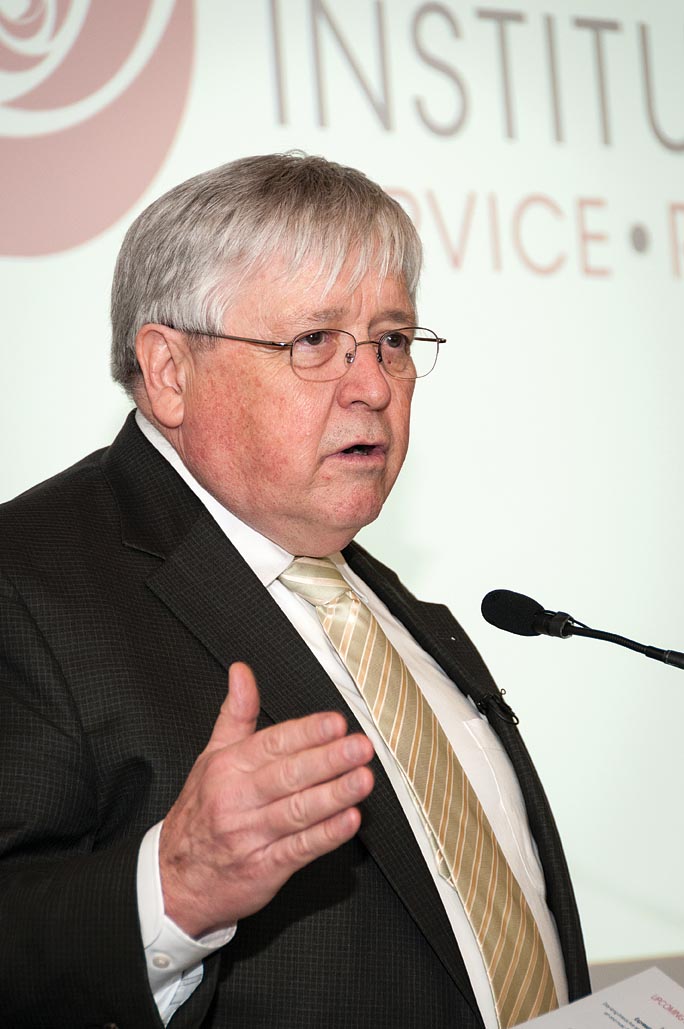 As the CEO of LeadingAge, Larry has been a powerful advocate for not-for-profit senior living providers across the country. In an email sent to providers and others who have a relationship with LeadingAge, he announced that he will step down by the end of 2015, saying he wants to spend time with his wife and family while his health is still good.
LeadingAge has a well-defined succession plan. You can see the entire text of the message below:
Reflections
I have great respect and appreciation for Larry. When Senior Housing Forum was this tiny little blog site that hardly anyone had ever heard of, I reached out to Larry by email, requesting an interview. I hardly dared hope that I would even hear back, let alone that he would take the time to talk with me. The best I expected was to be handed off to someone else in the organization.
I was pleasantly shocked when, 20 minutes later, I got an email back with his cell phone number and an invitation to call him the next day as he was driving to an appointment. I called and he spent at least an hour chatting about LeadingAge and his vision for senior housing.
I know he has a number of months, but I will miss him as I know others will. I suspect the 2015 Annual LeadingAge Convention will be a huge retirement party.
I wish him a joyful retirement.
The Email Annoucement
Dear Partners and Friends of LeadingAge,
I write this letter with mixed emotion. I have decided that I will retire from LeadingAge on or about December 31, 2015. I will have enjoyed exactly 15 years of serving in the best job in all of aging services. I say that because of the inspiration and support of our wonderful members, a competent and committed governing body, and an outstanding group of staff and state association professionals with whom it has been a great honor to lead and serve. A career dream come true for me! Thank you.
Intentional Timing, Strategic Opportunity for LeadingAge
My timing is intentional and I hope will create an opportunity for LeadingAge's next CEO. LeadingAge will face a new White House beginning with the 2016 presidential election. Being in on the ground floor of policy formulation and relationship-building is critical to our long term credibility and continued success of the LeadingAge mission and brand. Most of that work takes place in the first year of an administration. I was fortunate to join AAHSA with a new White House, and I want to be certain that your new leader has that same opportunity to forge new relationships and directions for LeadingAge.
A Personal Note
The second reason is personal. My wife of 45 years, Kathleen, and I have a new grandchild and dreams of things left undone in our personal lives. We would like to pursue some of those dreams while health permits–and get as much quality time with the next generations as we can. You should know Kathleen has been my partner in this CEO role. Her admiration for our mission and the people who fulfill it every day is a powerful behind the scenes source of wisdom and energy for me beyond measure.
Next Steps
Our Board had crafted a strong a succession plan that will be led by the Board's Search Committee. Our first step is to identify a strong search firm that will help gather input on important attributes of the position through conversations with you, our members, our staff, and other partners. We know that the recruitment firm will identify strong internal and external candidates. We anticipate a high degree of interest and should have a hard but great choice to make.
We, as always, welcome and appreciate your feedback and suggestions on our recruitment process and our future directions.
For more information on next steps, please also see the attached letter from our Board Chair, Dave Gehm.
Sincerely,
Larry Minnix | CEO/President | LeadingAge
Connect with LeadingAge: http://www.LeadingAge.org/connect
---
Dear LeadingAge Members:
I wanted to take the opportunity to write you all to update you on our plans, as an organization, to ensure that we keep full focus on our mission during the upcoming CEO transition.
As you well know, LeadingAge has a very strong board guiding the organization – a board that is comprised of your peers and executive leaders in our industry.
Larry mentioned, and I'd like to reiterate, that our Board will take an active role this year in ensuring that our transition is seamless. Wehave crafted a strong succession plan that will be led by the Board's Search Committee.
To start, we are already in the process of identifying a strong national recruitment firm to lead the charge of identifying our next leader. In the coming months, we, along with the selected firm, will be in contact with you to gather your feedback on the important attributes we should seek of candidates for the position. We anticipate a high degree of interest and strong internal and external candidates. We know we will have a hard but great choice to make.
While we will all miss Larry's energy, spirit, and leadership, we know that we will find a very worthy candidate to fill his shoes and guide LeadingAge into the next years.
Sincerely,
David Gehm
LeadingAge Board Chair