A story of Celebration. Vintage aircraft rides for senior living community veterans.
I first Darrell Fisher, president of Mission Senior Living when I approached him about using the Vigil Health Solutions emergency call systems. As we chatted, I told him about Senior Housing Forum and he shared his limitless passion for Ageless Aviation a not-for-profit organization he founded to celebrate elders living in senior communities that served in the military. This celebration happens in a very unique fashion.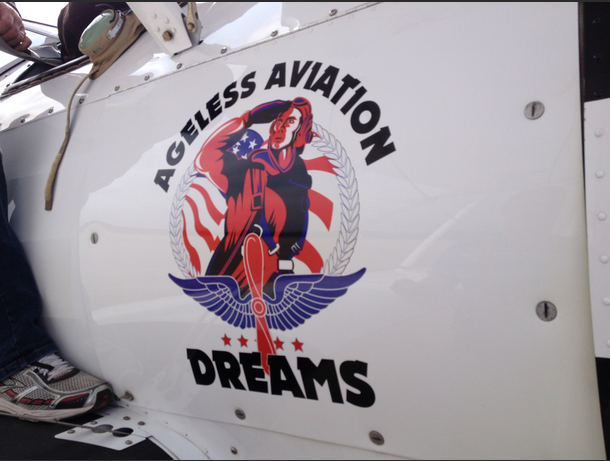 Dream Flights owns and operates three open cockpit world war two era primary trainer Stearman biplanes. These airplanes have been meticulously restored and a few times a year Darrell takes one of these planes on tour in order to give these seniors what is for most of them their last airplane ride.
He charges NOTHING to the veterans, the senior communities or their families, thanks to number of generous sponsors. A few weeks ago, his tour made a stop in the northern California town of Tracy to honor the veterans at Astoria Gardens. Darrell invited me to come check it out.
Included in the invitation was the ultimate enticement, the chance to go for a ride. Back in college I used to teach flying and I have close to 2,000 hours in my logbook I had never flown in an open cockpit biplane. It was easy to say yes.
The Best Part . . .
The ride was a blast enhanced by the chance to actually do a little of the flying, but honestly as great as the ride was, the very best part was watching the seniors take these last rides. It's a gentle and mildly challenging effort to get these seniors from their wheelchairs and walkers up on two the lower wing of the airplane and then into the front cockpit. But honestly the "little kid" grins on the seniors as they return from their ride is priceless.
Tour Information
If you are interested in having Darrell and Dream Flights come honor your veterans you can check out the Dream Flights website for most current tour schedule or to make a request that he come honor your veterans.
Sponsorship/Donations
This is a great way to honor those who have served our country. If you are interested in helping Dream Flights has a number of terrific sponsorship options that you can find on their website. If you like this story it would be a great honor to me if you would subscribe to our email list.
Don't miss a single issue of Senior Housing Forum, subscribe today. It is free! We do not sell or share your contact information. The posts are practical and never too long. Go to the main page of Senior Housing Forum and on the top you will see a link to our subscription sign-up page. You will receive notification when a new article is posted. You can unsubscribe at any time.
Finally: If you know anyone who is looking at emergency call systems I would appreciate the opportunity to talk with them about Vigil Health Solutions.