By Susan Saldibar
Does this ever happen to you? 
You run a new digital ad campaign.

It flops and no one can tell you why.

Conversions are taking longer and costing more.

Several of your communities have slipped waaay down on Google search. When did

that

happen?

You're desperate for some analytics on this. But pull a report that doesn't tell you anything? Are you kidding?
Maybe it gets worse.
As one issue crops up, there's a scuffle to fix it. While everything else . . .

just sits

.

The funnel has a lot of old leads that

aren't moving

.

Marketing and sales have become uninspired, unproductive,

and expensive

.

You're stuck with

fewer conversions

and dwindling marketing coffers.
I feel like I'm describing a pretty dysfunctional marketing/sales department. But maybe I'm also describing yours.
So what if you could rewind and replay but with a different ending?
Just Imagine
Imagine having access to a suite of extraordinary marketing tools, all accessible through the cloud, all automatically integrated. Sort of like Microsoft Office or Adobe Studio. Only better.
What if . . . you knew how much every single move-in is costing you, juxtaposed against analytics that told you what was working or not working, and why!
Imagine it's all cloud-accessible and shareable, 24/7, from anywhere. 
(At the very least, think of the time you'd save.) 
It gets better. 
Imagine that this application had a crew of experts behind it, mentors who were available, and who you could actually talk to on the phone. 
Now that I have your attention, imagine all this costs a fraction of what you are paying for all those individual "experts" (who never know what each other is doing) and FTEs who have a million other things they need to be doing.
It Exists!
Somebody has created this. And it looks really good.
I had a conversation recently with Jeanene Steinberg, Integrated Media Manager for Conversion Logix (a Foresight partner).
They started off as a pure-play digital marketing company. But their clients loved what they did so much they wanted their apps to also do _______, ______, and _______. (What would you want it to do?)
So they expanded, fine-tuned, and integrated everything. This is so right for our times that I keep shaking my head and saying, "Wow." 
Everything ties to their mantra: capture, connect, convert. Repeat.  
The way they describe it is as a flywheel effect. Each piece feeds the next, keeping the conversion wheels moving in sync and helping to narrow a big, fluffy funnel down to the leads that will optimize your marketing spend and give you the best conversion rate. 
This graphic makes their services a lot easier to digest: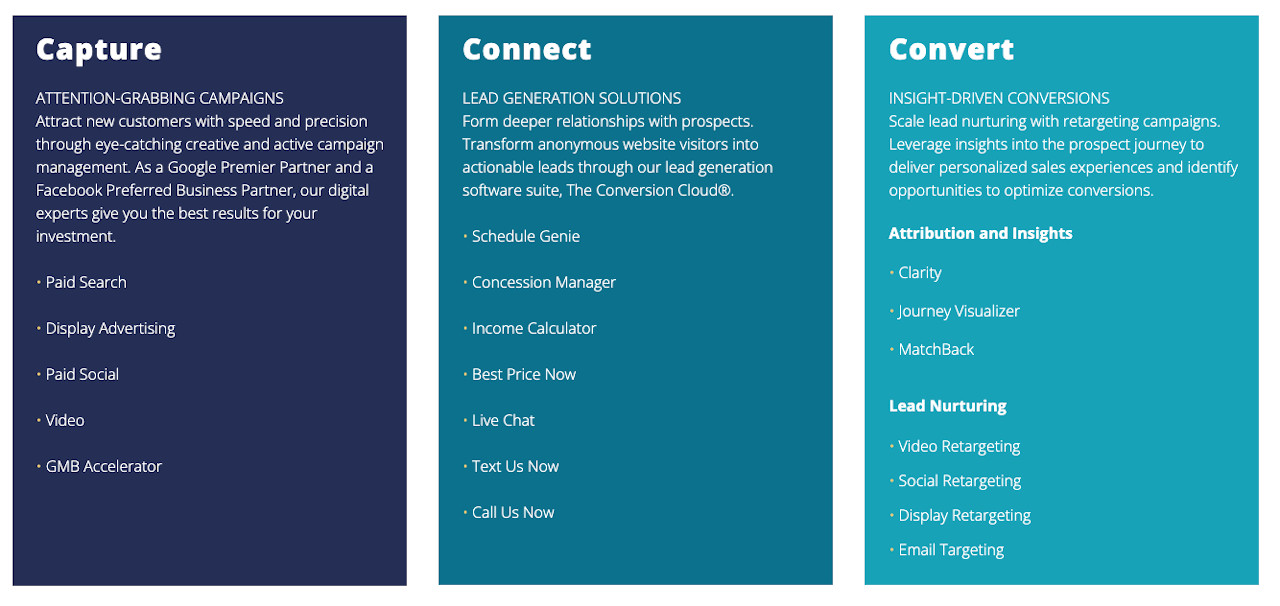 The Power of the Cloud
As you can see, these guys do so much, but I want to focus for a minute on their Conversion Cloud, because it's exactly what regional directors need to get conversions pumping again.
Here's a thumbnail of what's in it (you can get more details here)
Schedule Genie: This lets prospects instantly schedule a virtual or live tour or appointment. What's great is that they can do it on their time. And you'll probably get more because you're not forcing them to "call to schedule" as so many websites do.
Concession Manager: This lets you provide incentives on every page. So if you have a visitor who likes a special move-in offer you have, they can claim it. Another opportunity to get contact information. You can also learn which offers are getting more results. Why offer a free month of facials at your beauty salon if most prefer the free massages?
Income calculator: This is a great way to let visitors financially qualify (or disqualify) themselves. It helps them and you, saving you time downstream.
Call Us Now or Text Us Now: Just a tap on their smartphone to connect to you. Why make them memorize a phone number or toggle back and forth to text?
Reporting: If all you had was the reporting piece, it would be worth the price of admission. This is where it all comes together. You will be able to quickly calculate ROI on every step of a resident's journey. You will know what's working, not a month later, but in real-time so that you can adjust before a wrong move becomes a cash drain. Think of the money saved and the insights gained.
And, what blows my mind is that all you have to do is put a tiny piece of code on your website to turn all this on.
How Are They Able to Do All This?
Conversion Logix is a great example of what younger, more nimble companies are doing today. They are putting their apps in the cloud, making them more agile, easier to integrate, and faster to access. And they're not bogged down by old-school culture and hierarchies . . . which allows them to attract more creative people, who continue to produce more creative tools. 
And they actually let you try stuff without long, tedious contracts. 
So the next move is on you. It wouldn't hurt to try them out. Wearing my marketing hat, I'd give it at least six months. But you may well be sold before then.
Here's how to find out more about Conversion Cloud and all the other cool things Conversion Logix is doing.
Marketing Newsletter
To receive senior living marketing trends, case studies, and invitations to exclusive webinars from Conversion Logix, sign up here: