By Steve Moran
We love hearing from our readers, viewers, and listeners at Senior Living Foresight, Foresight Radio, and Foresight TV. One of the ways we get feedback is to run polls on our LinkedIn Page. A few weeks ago we ran this poll: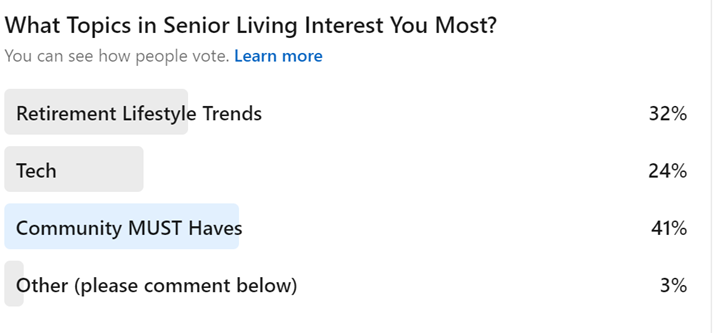 "Other" was a very small number but included "Staffing and alternatives to large high-priced, hospitality-focused communities" and "Professional Management".
Conclusions
Several things stood out in the poll:
We were surprised that "Community Must Haves" scored so high but as you can imagine that response left us wondering what those "Must Haves" might be. So right now we have a 2nd poll running to find out what those "Must Haves" are. You can join the discussion right

HERE

.





On the other hand, we get the sentiment. Senior living has never been a tougher business to be in. Occupancy is low, finding staff is at a crisis level, and Covid is back. It is simply exhausting. As operators balance resources, one has to ask what are the important things we need to do, and are there things we are doing or have been doing that don't really matter that much?

We were also surprised that Tech was second lowest and would have predicted it would be the highest. We know that tech is important, that it has great potential, but we also know it comes with hard dollar costs, and the soft cost of staffing.

Retirement Lifestyle Trends is about where we expected it to be. The world is changing, senior living is struggling and will likely look very different in 5, 10, or 20 years. A big part of the problem is that even the emerging boomer population does not really know what they want. Ultimately I suspect what they want is to not grow old (another sign that ageism is a huge problem).





But we Boomers know we are going to grow older or die, which is an even worse proposition. We don't want to grow old like those who came before us . . . or at least that is what we think today. We want to stay relevant and engaged. We don't want to die a long painful death. We don't want to spend 10 or 15 years in a state of irrelevance just waiting to die.
Being a part of boomers figuring this out could be the single greatest opportunity for senior living.
We would love to hear your thoughts about these poll results.