By Jack Cumming
No institution had more to do with creating the American Dream of owning a single-family home than Sears, Roebuck, & Company. That dream dominated American yearnings throughout the 20th century reaching its peak in Levittown. The song, Little Boxes, showed that the dream wasn't always all it was cracked up to be. You know the song:
Little boxes on the hillside
Little boxes made of ticky tacky
Little boxes on the hillside
Little boxes all the same
Of course, not all homes were cookie-cutter. Sears homes provided American solidity and quality with practical designs that are still found today across the country.
Our Changing American Dream
The history of how we came to live as we did in the 20th century is germane for imagining how we will choose to live in the 21st century. The services-inclusive living model with luxury Continuing Care Retirement Communities (CCRCs) that transformed senior living in the 1970s and 1980s may be a forerunner for how people of all ages may choose to live in the future. Two-earner families are challenged to juggle home, family, work, and recreational needs. The conveniences of all-inclusive living offer clear advantages.
There are a growing number of entrepreneurs coming forward with new approaches. Not surprisingly, many (perhaps, most) of these ventures begin with older people but they appeal as well to younger people. We all know of adult children who visit parents living in CCRCs, only to exclaim, "I wish we could live like this." Why not? Increasingly, service enterprises are emerging to bring some of those benefits to all families where they live. This article looks at some of these ventures. First, though, it helps to consider how we came to live as we do. Is the American single-family home the same as the American Dream?
Sears Roebuck's Dream Book
The Sears program began in 1908 and was intended to just be a breakeven operation to showcase and sell the furnishings that would go inside the homes. Sears sold everything that a family might need to set up housekeeping, even the kitchen sink. Initially, Sears just sold the precut-house kit, and the buyer had to assemble the house on the property or hire a contractor.
With time, though, Sears itself offered a service to build the homes, and Sears even financed the purchase. Financing got the venture in trouble during the depression when people struggled to pay what they owed. After declining during the depression years, the entire program was abandoned in 1942 as World War II took priority. About 100,000 Sears homes are thought to still exist.
The Urban Alternative
Not surprisingly, Manhattan Island, the hub of New York City, never caught the single-family home fever. Luxury apartment dwellings proliferated there during the time that Sears was selling its homes elsewhere. A typical luxury apartment on Riverside Drive or Central Park West in 1910 would have three or four bedrooms, a servant's room, a library, a parlor, and everything else you would expect. Middle-class apartment living in Manhattan was very similar to single-family home life in the suburbs but without the commute.
To make this personal, I grew up in the New York suburbs. It was a lonely childhood. Friends lived at a distance. Eventually, as teenagers, we could use our bikes to get together but even so there wasn't much to do. The neighborhoods were lovely, and we walked half a mile or so to school, but after school, we were usually on our own.
As an adult, during the years that my children were growing up, we lived in a New York City apartment on Riverside Drive. My children had friends in the building which made it easy to get together. There was organized after-school activity in Central Park offered by the company that drove them to school. The full riches of the city were available. Of course, it wasn't all positive. The heterogeneity of city life caused scary encounters on occasion with tough kids from bad neighborhoods. There is a stark reality about city life that goes along with the cultural riches of urban existence.
Reimagining the American Dream
Is it possible for families today to have those positives of urban living without the negatives? Would that create an opportunity for developers and operators with expertise in service-inclusive senior living to expand to all ages? Can we make congregate living today as prestigious as it was in 1910 for urban middle-class families? Senior living developers are experienced in finding the right balance between apartments and freestanding villas.
We see evidence that trends toward more communal living may be beginning to emerge. We also see tracts where new developments might be welcomed. Abandoned shopping malls cry out to be repurposed, and the blight they present can motivate municipal authorities to provide incentives for fast-track development. Redundant hospitals can be repurposed to serve very old people. Opportunity flourishes in times of rapid change. The pandemic has accelerated the pace of change (and its counterpart, adaptability) like nothing we've known in our lifetimes.
Ventures Underway
Here are some other ideas, a couple of which I've shared previously. Matt Thornhill is CEO of Cozy Home Community, an innovative inter-generational concept deploying factory-built homes to clusters of mutually supportive neighbors. Boxabl is a Las Vegas company manufacturing affordable, prefabricated, quick-setup homes suitable for families who want Mom and Dad to live in an "accessory dwelling unit" (casita) on their single-family property.  Alternatively, these little homes can provide a nice backyard office.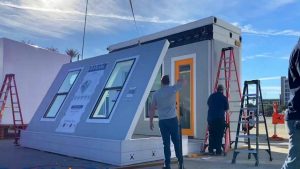 While Pulte Homes does not yet build its single-family dwellings in factories, their construction methods are similar.  Pulte brings a crew to a parcel zoned for single-family homes and uses factory specialization methods for a group of workers who move from home to home rapidly generating a new neighborhood from the ground up.  If the culture moves toward multi-family congregate living, however, Blockable is a step ahead of where Pulte may be going. Japanese-funded Katerra, too, should be mentioned as a significant construction company innovating more cost-efficient building methods.
You may know Pulte as the construction behemoth that in 2001 bought Del Webb's popular Active 55+ residential business. In 1960 Del Webb began offering housing for aging empty nesters with Sun City in Arizona. That was more than fifty years ago. The emerging opportunity today may be in multi-family living with support for working parents and for people looking to age with purpose. UC Berkeley's Terner Center for Housing Innovation is a thinktank imaging how housing may evolve into the future.
Ryan Frederick, Founder of SmartLiving 360, describes a future where people can trade the isolation of single-family homes or retirement institutions for rich connections and purposeful living in intergenerational, walkable mixed-used housing. To be frank, that concept appeals to me as an aging resident since it is empowering consistent with a purposeful life.
Most recently, I connected with Jake Rothstein, whose startup, UpsideHōM®, takes a completely different direction. He and his founding partner, Peter Badgley, describe their approach as providing, "… an accessible, safe, turn-key alternative to 'aging in place' for those who want to enjoy the benefits of communal living but aren't quite ready for an institutional setting." What's unique is that UpsideHōM partners with existing apartment complexes. UpsideHōM vets the units to ensure that they are safe and appropriate for older adults.
To achieve economies, couples or groups of friends rent a unit to live together, though UpsideHōM also pairs up compatible roommates. In addition to coverage for utilities and Wi-Fi, participants receive housekeeping, visits, and other services — such as meals, rides, and health care — on tap through apps. Each participant has a home manager who is central to meeting needs as they arise.
Lastly, a quick shout out to Jeremy McCarthy and his business coffee.hr which helps businesses cope with the increasingly sensitive politics of determining who's an employee and who's an independent contractor. Compliance concerns can entangle the best business initiatives in strangulating red tape.
Our Evolving Culture
These initiatives reflect our changing culture both of aging and of living. First, the challenge of modern family life – the two-earner or single-parent home – is changing how people view the American Dream. Second, the pandemic has accelerated the integration of home and work and that is changing how people think of "home." Co-living like the Ollie brand is popular among young singles. Third, the vitality revolution is extending the years of self-sufficiency and productivity, President Biden being but the most prominent example.
Fourth, and perhaps most importantly, people want to be recognized for their individuality and personal preferences. Continuous connectivity makes that possible. Individuality means that people don't want to be pigeonholed into age-segregated housing. Peter Badgley candidly points out that one of the benefits of UpsideHōM is that it avoids the "stigma" of traditional senior living.
That leaves existing operators with a stark question. If the traditional model now carries a stigma, is it better to try to fight that characterization as unfair or to recognize it as a reality and shift in a new direction? Change often gains traction when it is seen as fashionable and prestigious. My favorite example is how Tesla has benefitted from prestige while the established automakers have tried to start from the bottom. The Mercedes-Benz midget Smart car is no luxury ride when compared with a Tesla.
For some years now, senior living leaders have been predicting that change is coming to the industry and that with change will come a new era of senior living prosperity as America ages demographically. We are at the dawn of a new age of opportunity as the pandemic wanes and vaccinations roll back both the crisis and our fears. To gain the lead in realizing that opportunity, the prize is likely to go to that organization that can offer a more affordable, but simultaneously more prestigious, living option. That can appeal not only to older Americans but to all Americans. Opportunity beckons. The mystery is who will gain the advantage.