By Steve Moran
As the COVID-19 pandemic blossomed and began to ravage senior living, several people suggested I take a look at what Phil Fogg, the CEO of Marquis Companies was doing on a number of strategic fronts to confront the challenge. I reached out about doing an interview and here is what he had to say.
Marquis Companies
Marquis is a diversified post-acute organization based in the Portland, Oregon area with communities in Oregon, California, and Nevada. They have communities that provide skilled nursing and assisted living, plus some memory care and independent living. They also have a care management company, physician services, pharmacy, rehab, and a business intelligence analytics company.
Cool Thing #1 – Connecting Residents to the Community
Virtually Vital was an idea born from the pandemic. The big challenge was how to keep residents connected with the local community.
They started a Facebook and social media initiative where they asked the community, family members, and staff to post anything they thought residents might find interesting. Here are a couple of examples posted in the Virtually Vital Facebook Group.
This first one is part of a regular feature by a team family member who grows pears. Every few days he does a video shoot on the progress of this year's crop.
The one below is just a post of some "crazy hairstyles".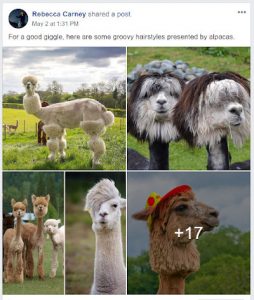 Since they have started this initiative they have had thousands of posts and as you can see they could be pretty much anything . . . cute pictures, funny videos, kids singing, and musical performances.
They are, of course, doing some of the more traditional things like FaceTime, Zoom, and visits through windows. The goal is to give families as much access as possible within their safety guidelines.
They even have their own comedian who provides wit and wisdom for residents.
They would welcome your submissions as well.
Cool Thing #2 – Protecting Residents
Being in the Pacific Northwest, they were acutely aware of the tragedy that unfolded at the Life Care Center of Kirkland and it served as an early warning that ultimately spread across the country, but was watched with a critical eye by the Marquis team.
Early on it was clear they were going to be judged by the adequacy and quantity of their PPE supply; that it was the one thing more than any other that would keep residents and team members safe. They also realized that their traditional supply chain was decimated by what happened in China. They got creative and started chasing supplies wherever they could find them. This included sending an airplane to Mexico to get masks.
As a result, they have had an amazing supply of PPE, which has enabled them to protect teams while at work as well as let team members take PPE home.
Lessons Learned
The reason we tell these stories and talk to leaders like Phil is to capture insights that may help other leaders. I asked Phil to talk about what they have learned.
"The first phase of this was responding to the crisis and dealing with all of the CMS, CDC, and state health authority guidelines, executive orders . . . Every single day our team was sending out policy changes to the entire company. And so being adaptive was critical."

Human resource challenges were magnified and there was no playbook for dealing with the challenges. They would solve problems and they would then find more problems.

The need for a deeper supply of PPE for times like this.

Having good communication channels to communities, residents, staff, and families is critical. People want to know what is going on. They added texting to the mix as a quick and easy way to provide updates.
The Deepest Dive
You can watch the entire interview here, where we covered a lot of additional territory.
Here's to the Heroes!
Finally, and maybe most importantly, they created this video to celebrate the heroic work frontline staff are doing.