By Susan Saldibar
I used to know a guy who would pay someone peanuts to throw a bunch of random content up on their website. It was chock-full of keywords but little else.
As a writer, it bugged the crap out of me. And when he whined that he got nothing in return, I was secretly glad.
Are you doing this? Because it won't work. 
And it's why you need to tune in to the latest Marketing Monday episode of its Digital University series, with Dreamscape's Dave Grauel. (Dreamscape is a Foresight partner.)
Dave talked about marketers (like the guy I knew) who are still throwing a ton of content out there but never stopping to ask themselves "why" they're doing it.
There's a lot to unpack here. And a lot to learn about your content marketing.  
First, here are five fast facts Dave shared on content marketing, taken from a survey of marketers conducted by Ahrefs.
(I should mention that, by "content," Dave is referring to organic written content and video.)
Good content generates three times the leads of ads and costs 62% less.
Seven out of 10 marketers find good content effective, not just to build demand but to produce actual leads.
It takes about four pieces of content to convert an end user.
About half of people Ahrefs surveyed post fresh content daily.
But Dave suggests you check out what your local competitors are doing. Just outpace them, that's enough.
Dave shared some steps to get you moving:
Identify your goals. What do you want out of each piece of content? Each piece should work for you. Otherwise, you're just wasting your time.
Understand "user intent." Who is your audience? Where are they in their journey? Are they just beginning their search, or are they ready to make a move?
Write/film good stuff. Educate your audience. Think about all the knowledge sitting in your head. Blog about it. Do a short-form video about it (more about that in a minute).
Huge tip from Dave: Google something like "senior living in my area." Then go to the "People also ask" section. Note the questions. Those are your topics! That's what people want to know about!
Above all, feed the beast. The beast being Google search engines. You can write all this amazing copy, but if it doesn't "please" Google first, your prospects will never see it. BTW, YouTube is the #1 short-form video site. (Sorry, your prospects are mostly not on TikTok. Not yet, anyway.)
Now check this out, from some of the top hits Dave found: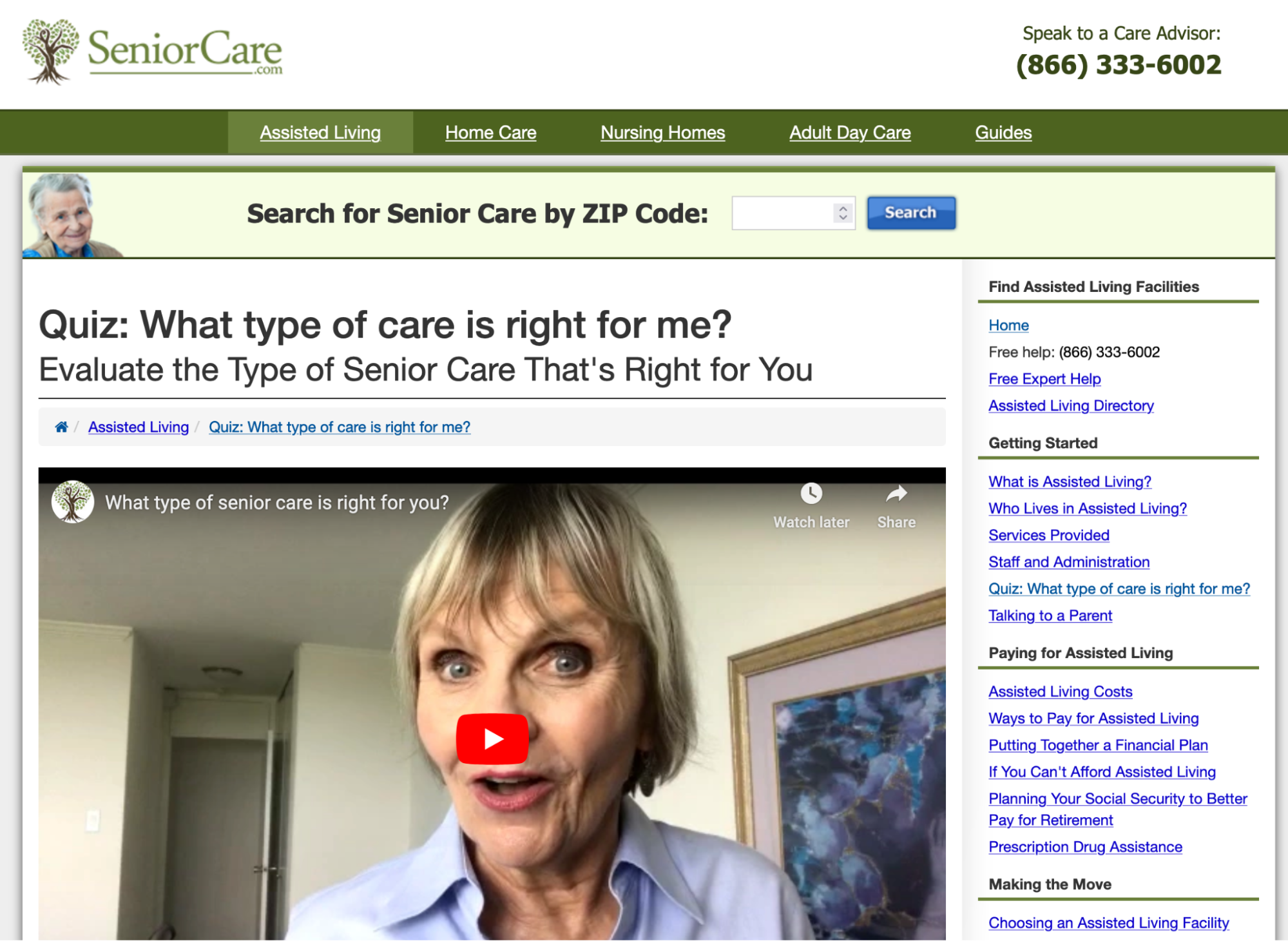 These folks have created a self-assessment quiz, along with hyperlinked content that answers, verbatim, the questions their audience has. Total win-win. They get information, you get a more qualified lead.
And then there's this …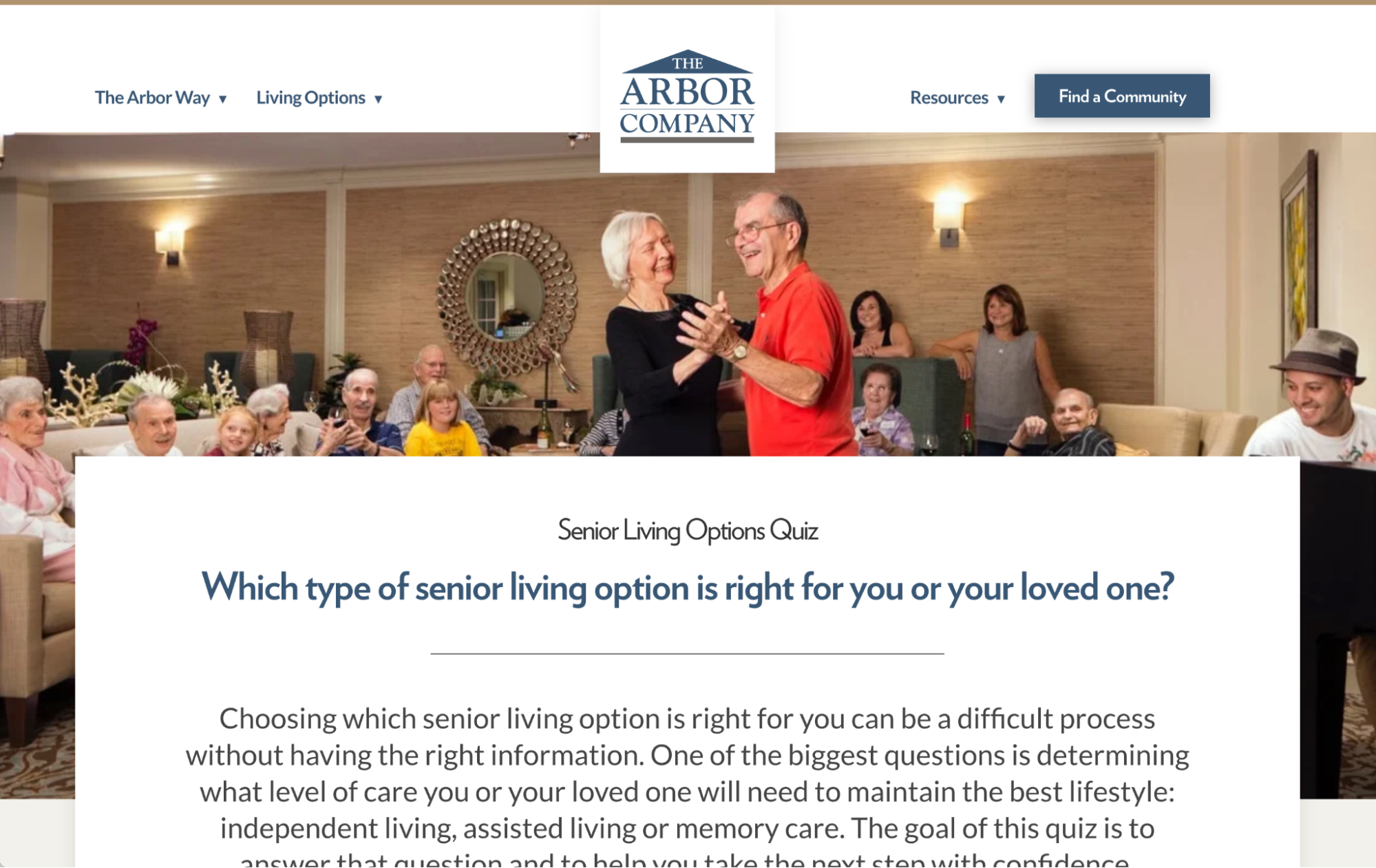 They're answering one of the most common questions prospective residents and families want to know. It doesn't get any more basic, or smarter, than this.
Bottom line: Content lives out there forever. Get it right.
For every single person you nurture and influence, you can do it again and again and again for others. Content quality is the yin to SEO's yang, as Dave says. 
Start with blogs. And tag team it with short-form video.
Glossy, highly produced videos are out. Authenticity is in. That means, you can sit in front of a camera and read your blogs. Or find that person on your team who loves doing videos and turn them loose! 
Then, when you've got some good, informative content, hand it over to your SEO folks to engineer it for Google. 
Personally, I'd probably turn everything over to Dreamscape. They live and breathe this stuff. And from what I know about SEO, there's a lot of back-end work I wouldn't want to spend my valuable time trying to figure out. 
Now for the big event, January 25 and 26  …
Sign up to attend Senior Living ASK Day (Aging Services Knowledge). Foresight's Steve Moran is co-hosting. Seventeen top companies who serve senior living will give a solutions-oriented talk. NO SALES PITCHES. It will cover all the service lines of senior living. That means marketing, finance, real estate, and a lot more. You can register here.