Learn about the importance of building your brand at Argentum's Senior Living Executive Conference.
By Argentum Staff
Branding expert Kat Cole, COO and President of FOCUS Brands North America, will speak about the importance of branding at this year's Argentum Senior Living Executive Conference. Attendees will learn how senior living companies and communities can build a brand that stands the test of time, market their branding message, and regain the public's trust when something goes wrong.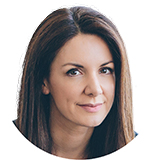 When you think of branding, your favorite products may come to mind—from cars to breakfast cereals to clothing. Due to companies' branding efforts, we have become extremely familiar with many products. As a senior living professional, it's important to think about what branding means for you and your company, according to Kat Cole, COO and President of FOCUS Brands North America.
"The way branding applies to senior living and the reason branding matters is because people have to base their decision on something, they don't just throw a dart," she said. "So everything a company stands for and the reputation in the community all fall under the brand—and they have a direct correlation to when and how people make decisions to do business with them."
How to Leverage Branding in Your Business
With so much on your plate already, you may not have time to think about your brand and how you can get the word out about the good work you do in your community. According to Cole, the following three tips can help.
Stay close. First and foremost, senior living communities should stay close to their residents, prospective residents, and families in order to understand their needs. Listening to what your stakeholders need; addressing their concerns will be the cornerstone of your branding message.
Tell your story. Once you know what your message should be, you need to spread that message in as many avenues as you cost-effectively can.
"Marketing is telling your story and that can happen through what most people think marketing is, which is advertising," said Cole. "However, marketing can also happen through social media engagement, community engagement and community events, and strategic partnerships with other organizations."
Be the brand. Although marketing is important, Cole said organizations need to remember that it's not the core of what your brand is going to be. In order to build a successful brand, your company or community has to actually be what you tell the community it is.
"Branding is not advertising. The philosophy of branding is be it, do it, then say it," Cole said. "Some people say, 'I'm building a brand and I need to put together a nice logo or a nice flyer and then I'll have a better brand. However, a brand is what you stand for, not what you look like. What you look like is a part of it, but if you want to stand for reliability, you need to run a reliable operation first."
Learn more about how branding can help your business from Kat Cole at the 2019 Argentum Senior Living Executive Conference, April 15-17, 2019 in San Antonio. Click here to register and plan your agenda ahead of time!
Don't Miss More Sales & Occupancy-Focused Educational & Networking Opportunities
Sales & Occupancy Track
During the Sales & Occupancy Track at the 2019 Argentum Senior Living Executive Conference, you'll hear from experts on occupancy trends and sales strategies:
Sales Activities That Produce Outcomes
This session will explore the relationship between what an organization measures and its overall sales performance.
➢ Featured Panelists: Jason Rock, VP of Sales & Marketing, Allegro Senior Living; David Smith, Founder/Owner, The Gatesworth Communities and Sherpa
Innovative Ways to Increase Occupancy
This session will explore attracting today's prospects with compelling and relevant messaging, and leveraging the right technology to boost marketing results.
➢ Featured Panelists: Chris Guay, President & Chief Executive Officer, Vitality Senior Living; Jesse Marinko, CEO & Founder, Phoenix Senior Living; Nicole Moberg, Chief Sales Officer, Thrive Senior Living; and Rick Westermann, VP, Senior Director of Sales & Marketing, Life Care Services
The State of Occupancy: 2019 and Beyond
In this session, you will hear from experts on occupancy trends, internal and external forces driving this historical low occupancy, and hear what is in store in 2019 and beyond regarding occupancy levels.
➢ Featured Panelists: Lana Peck, MSM, MFCS. Senior Principal, NIC; Rob Poyas, VP of Sales & Marketing, Five Star Senior Living; and Shamim Wu, COO, Eclipse Senior Living
Networking Opportunities
Join us at The Hive peer-to-peer discussion forum where you can network with other sales & marketing professionals and discuss strategies at sessions such as "Social Media: Are You Doing Enough?" produced in partnership with SMASH (Senior Care Sales & Marketing Summit).
Explore the Senior Living Expo where there will be more than 20 exhibitors focused on sales, marketing, and public relations solutions to help your business achieve success.
Also, the Conference will provide another opportunity for members of the Argentum Sales & Marketing Executive Roundtable (premier owner/operator members only) to convene to discuss the latest trends, challenges, and solutions.