By Susan Saldibar
Few knew that Berri had been a fashion model in her younger years, as she sat quietly before the camera. But when she heard the first 'click' her chin went up and she started posing as Tom Sanders clicked away. She was young again.
This isn't fiction, it really happened. And it should make all of us ask why, in an industry built to serve older people, do we not properly photograph them?
Philadelphia-based Simpson Senior Services asked the question and decided to do something about it. They arranged for several of their residents to participate in a professional photoshoot. The result is a fantastic collection of images, each of which shows not only a person but a glimpse into each life.
The photographer on the project is Tom Sanders, of Senior Stock Photos (a Senior Living Foresight partner). Tom has been getting a lot of (well deserved) attention lately for his outside-the-box photographs and videos of older people, captured living some pretty interesting lives. 
When a Picture Is Worth (Much) More Than 100 Words
Tom put me in touch with Susan Sharp, Vice President of Philanthropy for Simpson Senior Services. I was eager to learn the back story of this amazing photoshoot and what it was like working with residents and with Tom Sanders.
"The first time I saw Tom's work I was impressed with the 'person' coming through in his work," She says. "Then I saw how he added in the design work with background images and I was so drawn to it that I said, 'That's it. This is how we can rise above the humdrum way we present older people'." 
The photoshoot was an event in and of itself. Social distancing and masks were mandatory until the actual photos were taken. But as the masks were peeled off, so were the years, liberating residents to share more of themselves in front of the camera. One resident, Berri, had been a fashion model in her earlier years, Susan told me. So when Tom started to click away on the camera, as Susan tells it, "Her chin went up and she started posing."
Susan gives a lot of the credit to Tom Sanders. "Tom is so good at making people comfortable. He made it fun and relaxing," Susan says. "The session just brought out something in each resident. And you can see it in their faces."
You can also see it in Tom's post-production image montages, depicting major milestones of each life. Susan tells me that the marketing people at Simpson were so impressed that they have booked more sessions and are making a book out of the photographs. Can you imagine being able to gift something like that to your residents' families?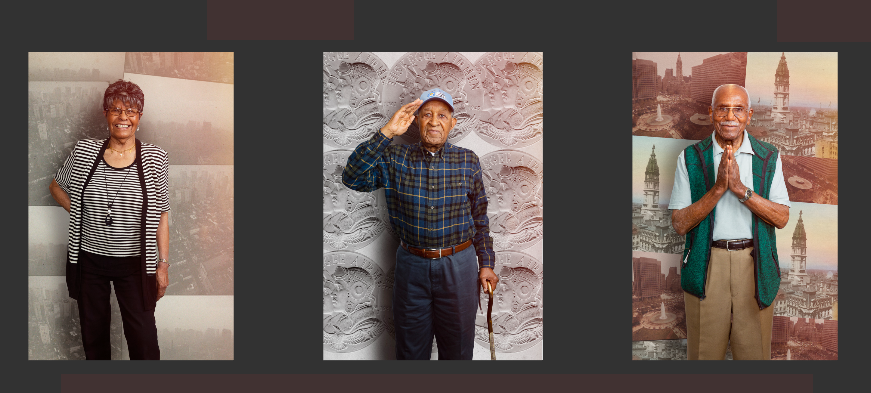 I caught up with Tom right after he had finished the Simpson shoot and asked him why these kinds of portraits are becoming more popular. Here is what really stands out to me:
They leave a unique legacy to families of residents, lasting for generations. What better gift to give adult children and grandchildren?

They provide a way for staff members to gain a deeper appreciation of each resident's background. Imagine having these enlarged and hanging on the walls of residents' rooms or outside their doors.

"Faces sell" as Tom says. Marketers can use these images to showcase the personalities of their residents and demonstrate their embrace of individualism and dedication to person-centered care. 
Capturing a Range of Ethnic Diversity Is a Major Advantage
When Tom talks about these photo sessions he exudes a lot of enthusiasm. Maybe that's why his photos are so great. Aging Black, White, Asian, Hispanic adults share all kinds of cool backgrounds from a former WWII Tuskegee airman, to a reverend, and several professors. Each sat in Tom's COVID-proofed studio and talked about their lives while he clicked away.
"These images are more relatable than just showing static images of rooms and amenities," Tom says. "Being able to depict ethnic diversity is also a major advantage." And there's another benefit. "When I do a photoshoot, I almost always get local media showing up." Who couldn't use a few minutes of free local airtime on something good for a change?
I asked Tom what he would say to communities who are waiting to do any photography until the pandemic is over and residents can take off their masks. Don't wait, is his advice. "A lot of people ask me about shooting people wearing face masks," Tom tells me. "I typically shoot both ways. That way you will have a longer shelf life after the pandemic ends."
Susan agrees. And she believes that sharing residents' stories through images is where the industry is culturally right now. People want to see something fresh and new. "We're flipping the narrative," Susan says. "We can blog about tips, isolation, etc. But I want to flip that and share their wealth of knowledge and wisdom with the broader community; to give back in the form of stories."
A Special Deal for Those Who Act Now
Tom is taking orders right now for videos and photoshoots for early 2021. So, if you want to come out of the gate stronger this year, now is the time to schedule it. And, Tom is offering a stock photo special that you might want to take advantage of. You can find out more about it here. 
One last question for the leadership out there. Why aren't you doing this for your residents? It's about as person-centered as you can get. It gives family members a portrait that they can keep forever. It gives staff a wonderful insight into each resident's personal story. And, finally, as Tom reminds me, faces really do sell.
Click here to read comments and join the conversation about this article.