By Jack Cumming
This morning, I got a tip from the Heartline study. The study is a joint venture among Apple, Johnson & Johnson, and Best Buy to improve the health of older people. The tip: "Your time with your healthcare provider should be a two-way conversation." Offhand, that seems like good advice.
Reflection unwraps it a bit. It even seems like a nostalgic wish. When I was a boy, we had a family physician. Ours was Dr. Cameron. He came to our house with a characteristic black bag. He observed the conditions in the house and how the family was affected by the cause that had brought him our way. That was relational medicine. A "two-way conversation" is relational.
Today's doctor's visit is very different. Typical is a twenty-minute encounter during much of which the "patient" (yes, that suggestion of sick care is still how doctors mostly view people who come to them) sits alone waiting in an examination room while the doctor is elsewhere skimming the patient's health record. The doctor then swoops in, immediately taking control of the encounter. "What brings you in today?" is a common opening after brief human niceties.
That pretty much defines the encounter. It may last ten minutes … or a tad more or less. The doctor then goes to work on the "presenting condition." Anything else is likely to go unattended. It's difficult to have a two-way conversation while the doctor is pushing a tongue depressor in your mouth. The visit ends with the doctor's "findings" and "orders." The doctor then moves on to the next patient, quickly forgetting the previous encounter. There is a better way. And the better way plays to senior living's strengths.
Senior Living to the Rescue
Here's the opportunity for senior living. There is strong evidence that the integrated care model with the Program of All-Inclusive Care for the Elderly (PACE) delivers better care at a much lower cost than the traditional model. PACE centers around a geriatric team observing people in a congregate setting. The less clinical setting allows geriatricians and staff to assess their patients in a more natural way. It's a relational medical model like the old-time country doctor who knew everyone in the community and treated them according to their wishes and their needs. It's a back to the future model for healthcare. We can do better. Senior living can lead the way forward.
Under today's law, PACE is limited solely (1) to indigent people; (2) who would otherwise be confined to a skilled nursing facility; and (3) who are approved by the state's Medicaid authorities. Thus, the law seems to limit the positive potential of this beneficial approach to eldercare. Although current law restricts the PACE program, as such, to a very narrow and carefully circumscribed segment of the population, the PACE concepts – geriatric observation in natural settings, response to social needs, commitment to avoiding institutionalization, and more – might be adapted to the wider general population to help the senior living industry fulfill its justification, i.e., better lives through aging.
Deciding to add primary healthcare to senior housing, requires astute legal, medical, and experiential advice, but the potential is promising. It also appears to be lucrative. PACE started with the oldest and the frailest, but one can imagine that we might benefit from bringing relational care to people of all ages. A quick glance at healthcare costs by age, though, suggests that it's wise to start with the oldest.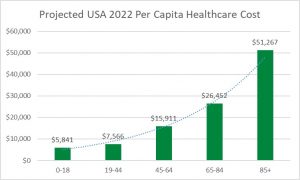 Relational care is a far cry from the reactive care that now results in escalating utilization and cost. Reactive care begins with that encounter in the clinical atmosphere of a doctor's office described above. Relational care takes us to the promise of a future in which the physician really does know those under her or his care – in sickness and in health – under natural circumstances where and how people live.
Medicare Advantage
Medicare Advantage programs allow astute consumers to opt into private plans as an alternative to government Medicare. Without the political overhead that impedes government, the best private-sector Medicare Advantage programs offer innovation, better care, and lower cost. Consumers can choose a plan during a once-a-year "open enrollment period" or more often if the Medicare Advantage plan has a five-star rating from the Centers for Medicare and Medicaid Services (CMS).
A small, but growing, number of CCRCs are expanding their services to include onsite Medicare Advantage geriatric care with contracted backup for higher acuity interventions. Since CCRC Medicare Advantage programs can start from scratch, they are not handicapped by the challenge of dismantling existing organizational pretenses as are established entities like Kaiser Permanente or even medical-group-centric plans like AARP's UnitedHealthcare® Medicare Advantage plans.
The CCRC Advantage
A CCRC starting with a small primary care onsite clinic does not have the overhead of specialist layers. That can help to realize cost advantages while emphasizing natural client interactions. The trained geriatric staff observes people in their normal activities. They are free to act early to ameliorate conditions before matters escalate to medical crisis levels. When more intensive care is needed, the onsite clinic contracts for services from local provider networks. That freedom to choose, too, allows them to offer better-specialized care at the lowest possible cost.
That onsite delivery can result in attractive margins. One PACE program shows on a recent Form 990, capitation revenue, i.e., payments from Medicaid like the capitation income which Medicare Advantage programs receive from Medicare, of over $66 million and expenses of less than $50 million, for a margin of nearly 25%. The following year, the capitation payments rose to nearly $75 million, an increase of $8 million. Given the business potential, it's surprising that more CCRCs aren't embracing the opportunity and using the gains from more responsive, lower-cost medical services to support other lower-margin operations.
Beyond Institutional Walls
Of course, an onsite clinic as an anchor for a CCRC Medicare Advantage program need not be confined solely to those residents who opt-in. It can also serve the larger community, so it's wise to locate it along the periphery of your property. Such a primary care clinic could become pivotal in anchoring a CCRC as the central hub, say, for a local grassroots "village" like Boston's Beacon Hill Village which started the village movement nationally.
This outreach to gain economies of scale by serving the wider community is, of course, not limited to primary care clinical services. It just makes sense for many of the services that CCRCs offer their residents. Similar outreach is possible, even desirable, for restaurants, fitness, and other services which can bring in revenue from outside members. We've reported elsewhere on at least one community, Fellowship Village in New Jersey, that is opening membership clubs to extend facilities to prescreened nonresident local neighbors. But our focus here is on the opportunity to improve medical services.
Where to Start
Can an executive director for a single CCRC introduce such a revenue growth opportunity? For single-site CCRCs, that should be no problem. The executive director/CEO need only retain the right advisers to help with pricing and contracting. For an executive director in a multi-facility organization, the opportunity will depend on the appetite for innovation and progress of the controlling parental officialdom. A wise parent organization might, at least, allow a single CCRC to serve as a test pilot program as a learning experience. At the minimum, there should be no harm for an executive director to ask, especially if the request is well researched in advance.
Helping America
If CCRCs bring down the cost of medical services for the oldest while improving lives, senior living will be able to show the way forward for all Americans. Everyone can benefit. Improving care for the oldest Americans is where to start. It's good policy. It's good medical practice. It's good for consumers. How often do we have an opportunity like that? Click here for data showing how America spends much more than any other country on healthcare with only mediocre outcomes.