By Susan Saldibar
This article is for all the senior living marketers out there who are mad as hell about all those great Google My Business listings you put out there that go nowhere and do nothing except give you the sinking feeling that somebody else is getting all your leads.
Here's Why
I just spoke with Chris ("Wes") Westermeyer, founder and president of Caring Advisor (a Foresight partner). Wes told me things that you need to know about, assuming you're tired of going down the Google rabbit hole.
First, no one is probably seeing your Google My Business listing (something you probably already know).

That's because you're probably "setting and forgetting" them.

And Google typically shows only 3 listings with a tiny "view all" button beneath.

Few people will click that button, making you and your listing invisible.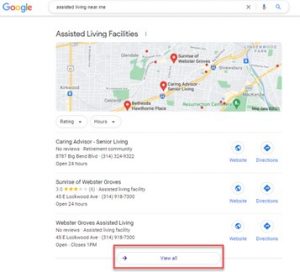 Google My Business could account for as much as 80% of your digital leads.
But here's the good news. It's not the herculean task you might think it is to light a fire under Google My Business and start getting all those leads your competitors have been siphoning off.
Wes is a digital guru. So he knows how to turn this around fast.
Here is Wes' "secret formula" for getting your listings to rank within the top 3 positions in local search results. Frankly, I'm a little amazed he's sharing it. So grab it while you can.
1. Create a Listing
Make sure to set up the Google My Business listing with the most relevant category. So, if a community generally needs assisted living residents, then do not pick the category 'Retirement Communities', pick 'Assisted Living Facility' instead.
Pro Tip – you can change your primary category as often as needed based on the type of new residents needed at any given time.
2. Clean Your Data
Make sure you have a consistent NAP (name, address, phone number) being used across the web. This means that you need your Google My Business listing NAP to match what you have on your website and as many social media sites and local business listing directories as possible.
This includes the larger players like Facebook, Yelp, Yahoo Local, Bing Local, Apple Maps, Amazon Alexa, Instagram, Waze, SnapChat, Yellow Pages, MapQuest, and the smaller ones like Citysearch, Merchant Circle, Chamber of Commerce, D&B Worldbase, Local.com, and hundreds more. Then you also need to look at healthcare websites like WebMD, Wellness.com, CareDash, Better Doctor, Vitals.com, and many more.
The goal is to have a clean NAP across the web so Google trusts that the data they have is accurate. Accurate data is one signal Google uses to rank Google My Business listings better and more keyword queries.
Pro Tip – consider using a third-party service like YEXT to control all your local business listing NAP information.
3. Create More Website Content
Make sure there is content on the website that covers every service the community provides. This sometimes means making sure there are separate pages for each service offered. So, if a community offers 'Respite Care', then they should have a separate page with information on it. This allows Google to show local search results for search queries that do not have a predefined category within Google My Business. Google looks at the website to figure out if the Google My Business listing is relevant. Google shows this with the wording 'Their website mentions xxxxxxxx'. Here is what it looks like:
Pro Tip – it is always best to err on the side of too much content, so if you are not sure whether or not it is worth creating a new page of content about a service go ahead and do it.
4. Increase Your Authority
Google uses the "authority" of the website to determine the importance of the associated Google My Business listing. What does this mean? In very simple terms, Google is counting the quality and quantity of unique links from other websites pointing at the website. Google counts these as 'votes' for a website.
The more and better votes a website might have the better it can rank within organic AND local search results with their Google My Business listing. Getting links to a website is not easy or quick, but you should always be looking for opportunities to get them.
Follow these steps and it's almost a given that you'll become more visible and attract more lead opportunities from local search opportunities. 
What I really like about this is that, according to Wes, it's the least expensive and most valuable digital marketing channel for any senior living community. You don't see that very often!
Better Yet . . .
Since lead generation and information websites cannot appear within local search results, you are only competing with other local senior living communities making it more manageable.
And even better, there's yet another way to do this.
Caring Advisor, owned by Digital Strike, can do all this for you. They offer local search marketing services along with optimized local business listings across their senior living directory network of websites. I'd say it's probably worth giving Wes a call.