By Pam McDonald
Anyone else out there having trouble focusing? Feeling forgetful. Not getting work done? No doubt you're suffering from Pandemic Brain.
It's a real thing. And just being spacey isn't the worst of it. It causes headaches, body aches, trouble sleeping, anxiety, and depression. It's our brain's response to prolonged stress — as our limbic system fails to effectively communicate with our executive functions.
What Can Help?

What can help? Kathy Parry, a productivity specialist, prescribes improving our resilience. She categorically states: "Resilience can be learned. We can take honest-to-goodness steps to get there and to help other people get there."
She'll present her process in a Senior Living FORESIGHT podcast that will become available on Wednesday, October 7th.
But for those senior living leaders who want a head start, she is offering complimentary roundtable sessions where participants can network and collaborate with peers to reframe the events of the pandemic, adopt a more positive mindset, and begin planning for the remainder of the year.
Two Roundtable opportunities are set for next Tuesday, September 29:
1:00 – 2:00 pm EST (Register HERE)
4:00 – 5:00 pm EST (Register HERE)
It's All About Resilience
For more than a decade, Kathy has been working with leading professional services firms to improve their staffs' performance, productivity, and retention. She's a nationally known trainer, speaker, and author of the newly published book, The Rubber Band Resilient Leader: How To Stretch Without Snapping.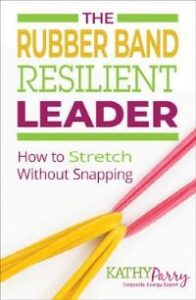 She describes resilience as "being able to take on the tasks for the day, understand what's at hand, and move through assignments with a positive outcome mindset." The mindset is what makes the difference. 
She says, "People who tend to be less resilient, don't get that positive outcome mindset. They're dealing more in the negativity, like 'we're not going to get through this', 'this thing is too overwhelming.' And for anyone who's gone through even a personal disruption, you know that it's the day-by-day small actions that are going to get us there." 
As a mother of four and a family caregiver to daughter Merritt Joy, who has a serious chronic illness, Kathy possesses a special affinity for caregiving professionals. She says, "Before COVID, I was interviewing several senior living professionals to prepare to speak at one of their conferences. These interviews helped me understand the biggest issues stretching leaders and teams right now. Stresses such as retention, regulations, and occupancy.
'I Feel Very Alone at the End of the Day'
"But it was one leader who led me to design the Directors Resilience Roundtable when he said, 'I feel very alone at the end of the day.' Wow, it hit me. I work with teams to help them stay engaged and collaborative during disruptions. Senior living leaders need some inspiration and resilience planning!"
She's designed the Roundtables so participants can:
Learn the two best ways to reframe the current situation and gain clarity for the rest of the year

Leave with a plan to address their biggest concerns for the next 90 days and how to move through them

Meet new collaboration partners for ideas, insights, and resources
The interactive session will be an hour long. And participants will share their biggest concerns about the last 90 days of 2020. Kathy will present a method leaders can use for moving forward, assisting their teams to stay resilient, productive, and engaged.
For more information about Kathy, visit her website at www.kathyparry.com. Register for a Directors Resilience Roundtable here. And don't forget to listen to our podcast interview starting Wednesday, October 7th.