A real-life story about how one resident moved a community to the top of the consumer review site senioradvisor.com
I puzzled over the title of this article and almost changed it because it sounds a bit like one of those come-on pitches for a webinar that is really nothing more than a 45-minute commercial or maybe one of those teases to get you to download a white paper, where after giving up a huge amount of personal contact information you get squat.
The title is good and the story is legitimate with no request for personal information at the end. It is just a remarkable story about how one senior community and one passionate resident were able to leverage online reputation sites into a 50% reduction in their vacancies and put them well on the track to 100% occupancy.
The Story
I almost labeled it a case study but somehow that title would have missed the intense passion behind the story.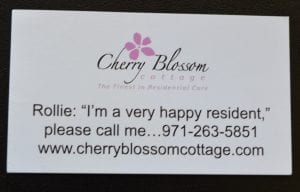 Rollie Henry was living in Baltimore and his life was going just fine until he had stroke. His daughter flew in from Portland Oregon to care for him with the end result being that he moved into an assisted living community where he was miserable and not making any progress in recovering from his stroke.
His daughter convinced him to pack up and move into another assisted living community in the Portland area where he fared no better. His daughter went looking for a new setting that was closer to her home and, by accident, she stumbled across Cherry Blossom Cottage. 
Rollie made his last move. 
Over the course of just a few months, he experienced an amazing and rapid recovery from his stroke. The improvement in his quality of life was so dramatic that he credits Cherry Blossom with saving his life.
As Rollie's life normalized, he realized that this smallish 40-resident assisted living community had 10 empty beds, something he found to be unbelievable given the quality of care he had received. He was amazed that Cherry Blossom was not full with a waiting list. He set out to fill every bed.
His first step was to explore Cherry Blossom's web presence. What he discovered was that Cherry Blossom was almost impossible to find on the internet. As part of his investigation, he also discovered consumer review sites like SeniorAdvisor.com and Yelp. At first, he simply wrote a review and posted it. He then came to realize that at sites like SeniorAdvisor.com the more reviews a community received the higher its placement the search. Knowing this he set out to gather as many reviews as possible from fellow residents.
His process was quite simple. He would sit with a fellow resident and help them create an account (if needed) and then allow them to dictate a review which he would then post.
Effectiveness
To understand how effective this effort has been, go to SeniorAdvisor.com and do a search for Assisted Living, Portland Oregon and you will discover that Cherry Blossom comes up as the very first community, because it has the most consumer reviews. This is a remarkable achievement, ranking this 40-resident community above big powerhouse senior communities. In addition, since Rollie started the campaign, Cherry Blossom has reduced their vacancies from ten to five and they are well on the way to that 100% occupancy goal Rollie set out to achieve.
First Steps
1. Claim your listing at SeniorAdvisor.com and the other consumer review sites.
2. Review your resident role to see if you have a technology savvy Rollie who can take on this project.
3.  Sit with your residents and families and help them write a review (but don't write it for them).   A little of my interview with Rollie
How many reviews do you have?
Steve Moran