By Susan Saldibar
If you're trying to guess what it is, I can tell you that many marketers running social for their communities are guessing too. And that's not good. In today's world, lack of social media savvy can slow down or sideline even the best senior living communities.
Fortunately, Debra Gawet, Social and Digital Content Strategist Supervisor for Sage Age Strategies (a Senior Living Foresight partner), knows all about the rule of thirds. And she wants to make sure our readers know all about it too. So here goes.
We'll start with this cool infographic the team at Sage Age created to give you a broad view of the rule: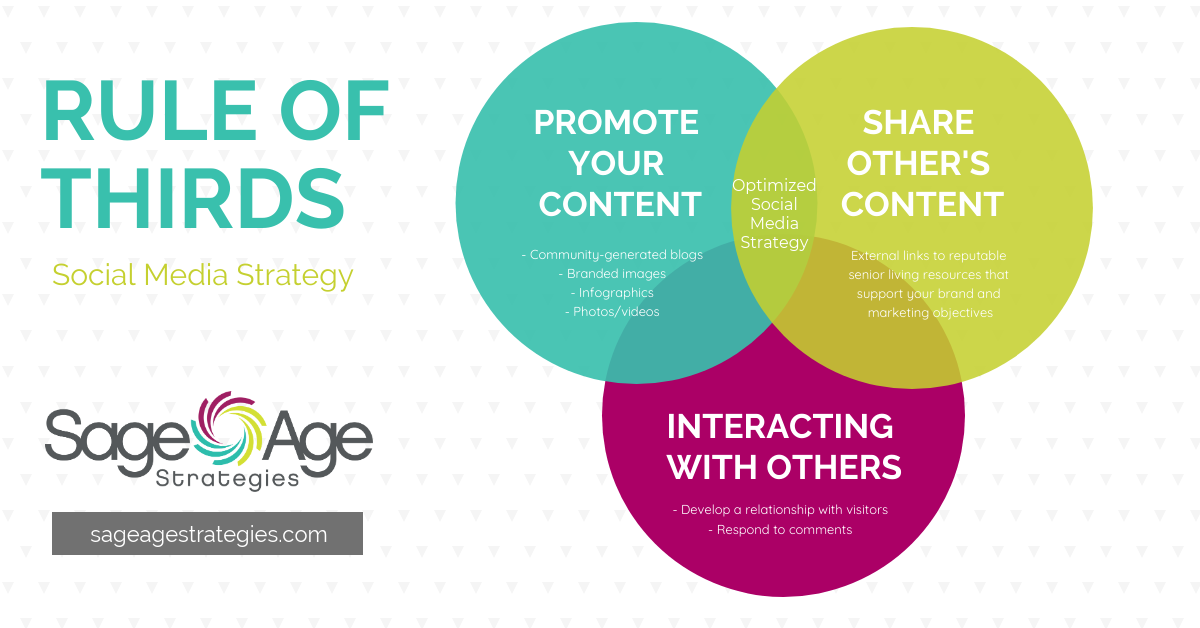 Here are the details you need to know:
1/3: Promote Your Content
For most, this is the easiest type of content to produce. It is created to promote your brand. Whether you have a new amenity or your community earned an award, you want to advertise it and put your own spin on it. You also want to encourage an action, such as a visit to your web page to fill out a form or call to learn more. This content can include a blog, press release, event, photos, videos, etc. You can share via a Facebook post, tweet, or whatever is applicable to the channel you're sharing on.
If you have too much . . . You will turn off your audience. They may wonder why so much of your content is promotional. They may ask themselves, "Why do I not see any posts about residents? Why aren't they more of a resource? Why are they just blowing their own horn?"
If you have too little . . . It may weaken your messaging and brand. It is always important to remind your audience who you are, what makes your community great, and give them a way to find out more.
2/3: Share Other's Content
It is important to identify and share content from other sources that is of value to your audience. You can then leverage that content to enhance your brand and stature as a subject matter expert. For example, you can provide links to reputable senior living resources. They should also be chosen based on care types, relevant topics to your brand, and topics that best align to meet the needs of your target audience. Debra urges marketers to carefully vet the content to make sure you aren't spotlighting a competitor.
If you have too much . . . People will wonder why you're not sharing more of your in-house expertise. They may think your staff is inexperienced, needing to rely on curated content, rather than produce your own. 
If you have too little . . . It can send the message that you aren't actively engaged within the industry. They may think that you don't "know what's going on out there" and you may lose them to other communities who do.
3/3: Interacting with Others
In the senior living world, it is important to engage, not only residents but their families as well. You might ask visitors for their opinions on a range of topics that are of interest to adult children as well as prospective residents. Your reward is a social media environment that shows a vibrant, connected community with lots of comments, likes, and shares. Debra urges marketers to check your social media daily to respond to questions and comments. You also need to stay on top of any negative comments or reviews you may receive and respond in ways that reflect positively on your community.
If you have too much . . . You run the risk of crowding out content that bolsters your brand and your expertise. While every marketer wants to encourage social engagement, it is important to balance it with links to other articles and resources that serve to inform and educate.
If you have too little . . . If you don't invite interaction with your audience, people may think you aren't interested in them. You will appear to be just pushing content at them, with little concern for how they feel about that content. It creates a one-sided conversation that will quickly turn off visitors.
Make It Work for You
By the way, it is also important to consider paid tactics for social media marketing layered in with the rule of thirds. This can help boost organic content and expand your reach.
Now that you know what the rule of thirds is, you need a calendar to organize your content appropriately, according to Debra. "It's crucial for senior living operators to have a strategy in place to ensure the social media content calendar is balanced, using the rule of thirds," she says. She also recommends quarterly planning. "Identify a plan for each quarter with an integrated focus so that all digital and non-digital tactics are aligned," Debra recommends. "This will serve as a blueprint to guide your content strategy and make sure you have what you need to execute it successfully." 
For more information about Sage Age Strategies, please visit their website.