By Steve Moran
The first question you should be asking is this: Does what happens at CES have any relevance to senior living at all?
My Answer . . . Maybe. I'm not sure, but I think so. I have included at the bottom of this article some photos, with a little commentary, some are or may be relevant to senior living and some were just kind of fun for me.
The Show
The show is all things technology, though technology is very loosely defined and includes things like beds, Keurig-like baking machines, and briefcases that are foldable desks. The presenters and exhibitors range from bootstrapped start-ups to Intel, Microsoft, and well . . . every large technology company from anyplace it the world.
It is an exercise in patience and it is a place to avoid if you are claustrophobic. You also have to be prepared to endure halitosis of unbelievable proportions. I am sure it comes from exhibitors talking nonstop and not eating or drinking, but a sensitive nose will be a negative.
CES is a testament to human creativity, optimism, and hopefulness. There must be 10,000 ideas here all competing for attention.
What's Hot
Just judging from where the crowds were:
The internet of things is huge

— There is this overarching idea that at some point we will be able to solve all problems. I am not sure about all problems but it has great promise. It also represents a great risk but I think we will figure it out.

Virtual Reality

— Every booth that had some kind of VR glasses or headset had groups of people waiting to check it out.

Companion Robots

— I was initially a complete skeptic, believing that robots were not humans and could never replace humans. I believe that . . . sort of. However, we need to face the reality that there are lots of older people who are lonely, who do not have the kind of companionship that would be ideal. After holding the Joy For All mechanical cat I was hooked (though I found it to be super creepy until I held it).

Sensors

— Lots of sensors doing lots of things from fall detection to soiled diapers. These will become important things, but I think more as a commodity than anything else. There will be some exceptions like Senior Living Foresight Partner SafelyYou.

Robots That Do Things

— We are not there yet, but I expect to see robots that do "things" become a big part of senior living in the future. Mop floors, clean bathrooms, run errands in the community. A huge thanks to the folks at HumanGood who have loaned me a guest apartment while I am at CES. I got in about 9 p.m. and someone from the security team came down, opened the front door, and escorted me to my room. A great human touch, but maybe someday a robot could do the same thing if he had not been available.

Artificial Intelligence

 — There are so many applications for artificial intelligence and because of cost and sophistication we are barely scratching the surface. We will begin to see this as mainstream in 3-5 years.

Self Driving Cars –

– Probably 5-10 years out from the perspective of senior living, but they are coming and they will impact senior living. How is far from clear. Make it easier to serve residents or destroy demand because people can stay home longer? Probably something in between.
Some Snaps and Video
A show winner, a belt that predicts fall risk.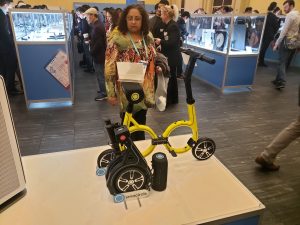 Will this become the new transportation thing?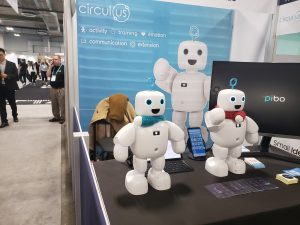 Companion robot . . . and in action.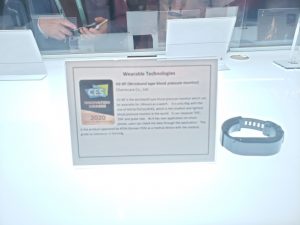 Not a great picture, but this device can monitor blood pressure and more.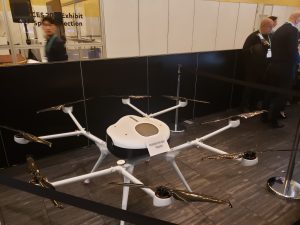 Drones for consumers are going to be a thing, sooner than we think.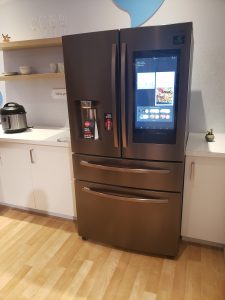 This is a serious refrigerator.
The next article will be more senior living specific. I expect it to have some really cool insights.