By MaryLee Herrmann
Always remember — "safety" first! Well, maybe second.
Congratulations to "food"! Way to go! Yes, "food" continues to hold the spot for number one priority by potential residents when comparing senior living communities.
But let's talk about the runner-up! Coming in at a very close second, we have … "safety"!
According to Charles Mann, chief sales officer and cofounder of Accushield (a Foresight partner), although people continue to inquire primarily about the food when researching senior living residences, the pandemic has increased concerns regarding safety in all forms, including health and security.
So how do you assure prospective residents that your community is taking every precaution to provide the utmost security procedures to keep their mom or dad protected and healthy?
(Hint: If this were actually about the food, it would involve Michelin Stars.)
Trying to Get Your Message Across
"We have top-level safety measures in our community!" — Go ahead, scream it from the top of your lungs.
"We take care of your mom or dad like they are our own!" — Holler it until you are blue in the face.
"We provide super-duper health measures to assure the health and well-being of all!" — Did you really say "super-duper"?
Okay, take a moment and catch your breath.
Your goal is to capture the attention of people browsing senior living sites and let them know you have touch-free guest sign-in to prevent the spread of germs from multiple users over the course of a day. So they can be sure — wait, what?
You're still using old-fashioned sign-in books? Oh, such a hassle, and, nowadays especially, it's a health risk. You, your staff, and your residents deserve something smarter that's readily available. You'll want to keep reading!
Anyway, back to what I was saying. Once you get your touch-free guest sign-in, you can tout how well that goes with your instant temperature scanning — at least you're up-to-date for checking body temps at the door. Uh, what was that?
No instant temperature scanning? So, essentially, one of your staff fumbles around to find the thermometer every time a person enters the building and then manually takes their temperature?
Sounds challenging, and the close contact puts everyone's health at risk. And why, when it's so unnecessary?
Hmm … what to do? If only there were a sign …
A Bright Idea
Susan White, regional director of operations of The Blake Management Group, read an Accushield social media post regarding Accushield's 5-Star Safety Rating. She immediately contacted Blake's Corporate Communications Specialist, Kirsten Miles, to reach out to Accushield and inquire about putting the 5-Star Safety Rating emblem on the Blake Management site.
What is the Accushield 5-Star Safety Rating? It's a way Accushield recognizes senior living and skilled nursing facilities that have prioritized health safety and visitor management through the utilization of advanced sign-in and health screening technology.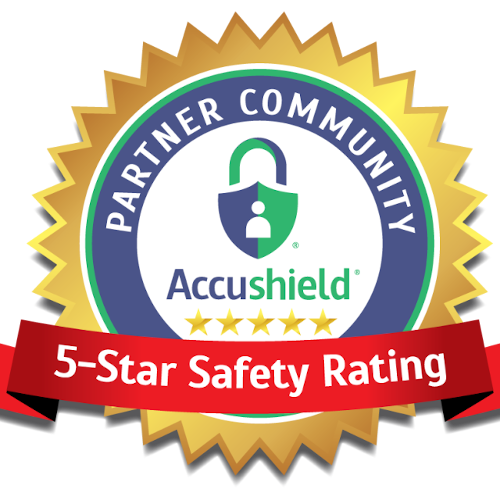 You see, Blake Management has been utilizing the convenience of Accushield's features in their communities for several years now, since even before COVID. It originated as a simple and smart touch-free check-in system and continues to evolve as new needs arise.
More Than Check-Ins
And with the pandemic, needs certainly have arisen. Susan and Kirsten mentioned how grateful they were because the Accushield team — knowing the significant issues specific to senior living communities — was up to the challenge, adding features like instant temperature scanning, (contact-free!), vaccine verification, and a health screening questionnaire required for each guest and easily completed onscreen (at the kiosk or via mobile app), at the touch of a button.
Susan told me another one of her favorite parts is the efficiency of the record-keeping feature. "It keeps a log of everyone coming into the building — when they enter, who they are, who they are there to see, what their answers are to the questions, what their body temperature is — so when state officials come in, or any of our surveyors ask any questions, we can instantly pull the information out of that system into a report. We love that tool."
And it isn't only the staff that benefits, as Kirsten added. "Family members haven't been able to see their loved ones as often over the last couple of years. So when they come into the community they see we're taking that extra step and making it a simple process for them to sign in and that ensures them that, 'Hey, we're not just letting anybody come into the community. We're making sure no one is bringing COVID into the facility.'" So, it's a huge sense of security for family members, which equals peace of mind."
Remember, safety is priority number two, only after food!
With the Accushield system in place throughout their communities, why did Susan want the 5-star rating visible on The Blake Living site? Easy, because ratings matter.
If the Slipper Fits
A quick little story. Once upon a time, a certain adult daughter (who I happen to know very well) wanted to buy her dad, who was in an assisted living facility, a pair of slippers that had good tread on the soles for better support, to replace the floppy, no-real-bottom-to-them ones he had and that looked perilous to walk in, especially for his late-night trips to the kitchen for his favorite snack of ice cream.
I, er, I mean, "she" went shopping for the slippers online, and after she entered into the search engine the details of what she was looking for — "men's sheepskin slippers, rubber sole, sure grip" — a long list of slippers popped up on the computer screen. All sorts of enticing adjectives in the descriptions. How to choose?
Did she spend tons of time looking at every single description and reading what the companies had to say about their slippers when she could have been going for a walk with her dad?
Nope, she knew a better way. She went straight to the stars! The star ratings are posted by each listing.
This way, she eliminated the need to go through them all one by one. She picked a pair of slippers with a 5-star rating, verified they were what she was looking for, and ordered them. When they arrived, her dad's feet were cozy and warm, and he could walk safely with a good tread sole. Smart shopping!
Sign of the Times
As Susan points out, everyone does their homework while shopping around online these days. People look at the star ratings on Google. They look at Yelp reviews and determine whether or not they want to buy something, participate in a service, even eat at a restaurant.
Searching for a senior living community with high-quality safety and security measures (and excellent food!) is no exception. For prospects, seeing the certification begins to build trust and assurance already. This is why Susan has the Accushield 5-Star Rating sign displayed on The Blake site.
"Ratings are a big deal in how people perceive our services, the quality of what we do. In addition to what we can tell people, here's a certification from a company other than ours. And it gives us additional talking points, with professionals, with prospects. We want to be able to educate them, let them know everything that we're doing."
Spreading the Word
Susan has taken the Accushield 5-Star Safety Rating beyond the Blake Management website. In order to display their commitment to the well-being of their residents and team, the emblem is being added to their marketing materials and is described during tours with prospective residents and their families. Aand she's encouraged her team to incorporate the 5-star rating in their email signatures.
Schedule a 15-minute demo with Accushield to find out how you can elevate your safety measures. Already using their touch-free kiosk? Contact them now to receive your 5-star rating and save your voice.
No need to shout!