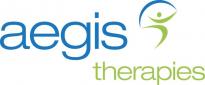 As one of the nation's leading providers of contract physical therapy and wellness services, our professionals apply proven techniques to help patients move through life to increase their freedom and independence. Aegis has over 900 partnerships in 40 states and more than 8,400 employees providing long- and short-term therapy services.
Aegis Therapies® leverages the power of partnership to help patients transition seamlessly throughout the care continuum. No matter the setting – acute, post-acute or home – Aegis specializes in providing services that adapt to patient needs in each setting. Our professional therapists use leading-edge technology and innovation to help our patients restore their strength and confidence after an illness or surgery. We help our patients return to the activities they love with targeted rehabilitation services provided in both inpatient and outpatient settings.
At Aegis, we keep our patients in mind during everything we do. We leverage our core clinical services that help Aegis therapists provide treatment of conditions typically seen in long-term care, featured programs that use state-of-the-art therapy equipment and proprietary protocols, and specialty services that address conditions such as dysphagia, cardiac issues, diabetic foot health and limb loss.
Articles Related to Aegis Therapies