By Susan Saldibar
Who isn't frustrated by the bad (and unfair) rap senior living communities have gotten because of COVID? How often do you feel that your attempt to educate and calm the waters is just a lone voice drowned out by the much louder voices of pandemic-driven panic and fear?
Your voice has gotten louder and clearer with a new program called Seniors Better Together. It's a co-op marketing program geared towards amplifying all that's great about senior living communities and it's growing fast, thanks to the efforts of a small, but determined group of marketers and operators, as well as the participation of LeadingAge Washington. The program is designed to cut through all the misinformation and communicate the benefits of senior living, especially in the era of COVID-19.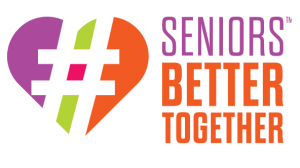 A series of webinars have been scheduled to provide more information about the Seniors Better Together program. The dates are Tuesday, 9/22 at 10:00 a.m. PST, Wednesday, 9/23 at 12:00 p.m. PST and Thursday, 9/24 at 2:00 p.m. PST. You can connect to them using this Zoom link.
We spoke recently with DeAnne Clune, Managing Director for Seniors Better Together. DeAnne shared how her own background contributed to what became a sort of perfect storm of an idea.
"I've been in senior living for over twenty years. But before that, I was a marketer for retail shopping centers, so the co-op concept of shop owners pooling their resources to get attention and publicity was something I knew well," she explains. "Now, as a marketing consultant in senior living, I realized that the same concept could work by bringing senior living communities together to tell our stories and make our voices heard."
Get Involved and Share Your Story
DeAnne believes that the reason this program has gathered steam is its grassroots energy – "We're riding the road as we pave it," – and that they've made it open and easy to get involved. All communities in the senior space are invited; no previous affiliations needed.
It's easy to get involved and share your own stories. There are two ways to get started; either as a sponsor or a partner. Communities can sign up for a 6- or 12-month partnership and gain all the advantages of the program, which include ads, social media, and other materials to get involved in sharing your own stories. They have created a partner guide that you can access to get the details here.

Error, group does not exist! Check your syntax! (ID: 7)
A Story About Improving Lives
DeAnne likens it to the iconic "Got Milk?" campaign, driven by a co-op of nationwide dairy farmers. And they're looking to get just as much traction. The goal is to put, front and center, the key benefits of senior living communities and to educate and quell the fears driven by COVID, that have put a stranglehold on census.
"It is difficult to know how much the bad press has hurt senior living, but we know for sure that it has painted an unfair unbalanced picture," Steve Moran says. "This is a terrific effort to tell the whole story of how senior living is improving the lives of older people in this country. The challenge is that it needs every operator in the country to get behind this movement . . . some movement. Together we can change the face of senior living."
Everything is Different, it Requires Different Things
Seniors Better Together has been designed to get mass participation, rather than just elite groups of high budget communities, DeAnne explains. That's why it's easy to join and affordable. "We're giving everyone the opportunity to participate," DeAnne says.
"This pandemic has been a nightmare for so many communities, residents, and families," DeAnne acknowledges. "But, in turning our world upside down, it's also created an opportunity to rediscover our creativity, especially in marketing. Everything is different now. It's time to try new and different things."
There are several links to more information and sign up forms that you can access by visiting the Seniors Better Together website.